In Bangladesh, Empower Youth for Work will improve decent employment and climate-friendly entrepreneurship for young people in rural, poverty-stricken areas that are vulnerable to climate change. We want to enable young women to improve their economic opportunities and claim a role in decision-making at all levels.
Oxfam Bangladesh assists people in rural and urban areas to improve their livelihoods and make them more resilient. We have been doing this since 1971, by supporting innovative flood insurance schemes, impact investment and market systems change, among others. Oxfam's Bangladesh team consists of experts on climate change, gender, market development, employment skills, influencing, and sexual and reproductive health rights. We work side-by-side a large number of partners from various sectors: civil society organisations (local and national), private sector organisations (banks and micro-finance organisations) and government departments (Disaster management, Women and Children Affairs, Housing and a building research institution). Key donors such as DFID, EU, ECHO and SDC support our work.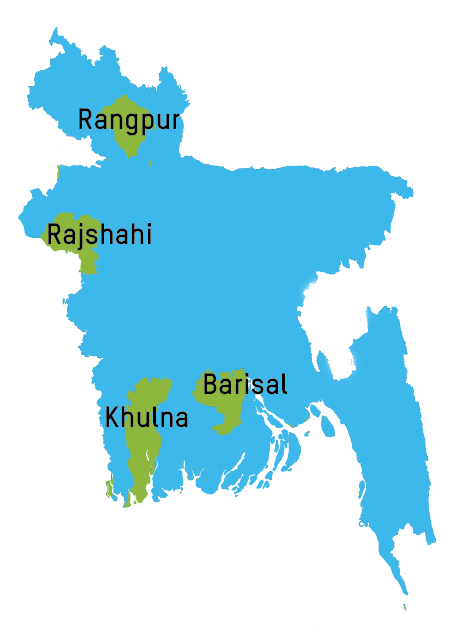 Empowering Youth to Work focuses on four districts, where 85% of the population lives in rural and semi-rural areas. The two targeted districts in the north, Rajashi and Rangpur face drought, cold waves, and a ground water crisis. On top of this they belong to the most poverty-stricken regions of Bangladesh. Over 31% (Rajshahi) and 46% (Rangpur) of the total population of 34 million people live below the poverty line. Both Rangpur and Rajshahi are well known for their agricultural products, such as rice, tobacco, maize, mango, litchi, and silk.

Barisal and Khulna, the two districts targeted in the South, are exposed to cyclones, storm surges and salinity. Poverty rates are very high, with 54% of the population in Barisal and 38% of the population in Khulna living below the poverty line. The total populations in these two districts are 8 million and over 15.5 million, respectively. Both areas are renowned for salt, fisheries and vegetable production, while horticulture is an emerging sector.

To identify the economic sectors best suited to empower youth, we have looked for sectors that: provide opportunities to reach large numbers of young people; have good economic prospects (i.e. expanding markets); support climate-resilient practices and adaptation. Based on these criteria, we selected agricultural processing, in particular jute and paper bag making, and the processing of chili, maize, wheat, mushroom and horticulture & vegetables. The growing informal sector (e.g. fashion, trading) with its increasing demand for a qualified labour force is also very relevant, especially for young women. We will take a final decision on which sectors to incorporate into the project after further consultations with potential private sector partners and training institutes.

Our project aims to have a lasting impact for young rural people: increased employment, reduced vulnerability to climatic risks, improved sexual and reproductive health rights and increased influence and participation in decision-making.