This project links to the Government of Ethiopia's efforts to address the problem of youth unemployment. The strategies of Empower Youth for Work (EYW) project in Ethiopia are:
Organising and strengthening local youth groups;
Sharpening the skills and confidence of the target youth through a research and evidence-based approach;
Engaging the private sector in facilitating sufficient economic opportunities for youth;
Grounding and legitimising change through youth-driven and community-based approaches;
Building upon traditional and modern communication systems to expand and disseminate youth and women's empowerment;
Contributing to the gradual transformation of the traditional socio-cultural definitions of women's/girls' empowerment;
Engaging religious and tribal leaders, as well as other influential personalities;
Contributing to the creation and strengthening of an enabling environment for youth and women's empowerment.
To facilitate implementation, the project is establishing a multi-stakeholder platform in each of the two intervention regions. The platform will serve as an important entity to facilitate effective project implementation, as well as to closely oversee and follow-up on the achievement of project results. The platform will have youth representatives as members who will ensure that decisions are made according to the needs of young women and men.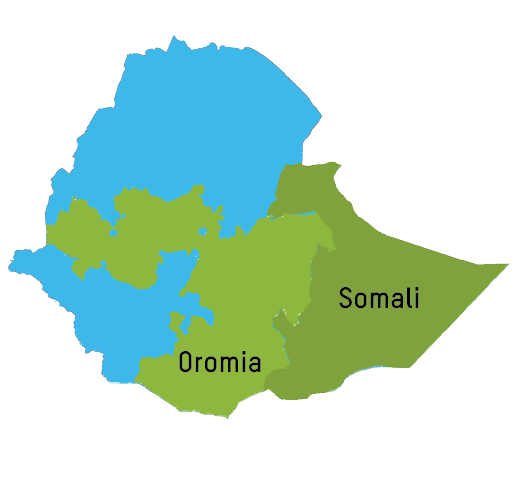 The geographic areas where Empower Youth for Work is implemented are the Arsi and West Arsi zones of the Oromia regional state, and Sitti and Faafan zones of the Somali regional state. Considerations used to select the areas, among others, include:



Current capacity in the regions;


Local partners and their relationship such as to finance institutions and opportunities for change in terms of access to markets;


Number of families who are dependent on agriculture and pastoral livelihoods with limited productive assets and low productivity (including participants of the Productive Safety Net Programme);


Regions characterised by vulnerability to food insecurity because of repeated market failures, climate and environmental degradation;


Good potential for vegetable and livestock production to supply local markets, development of private companies, small and medium micro-enterprises, which if successfully linked to broader markets, could contribute to alleviating the national challenge of youth unemployment;


Females account for more than 51.3% of the rural population in Oromia, and more than 47.9% in Somali, and women lack the capacity and assets to invest in agricultural and pastoral livestock productivity.