Celebrating International Youth Day in Bangladesh
International Youth Day 2019 was celebrated in Bangladesh this year with a series of street performances and dialogues to raise awareness of the issues young people face in the workplace. EYW joined forces with youth role models and relevant stakeholders to make this happen.
From 7–25 August 2019, EYW partners* in Bangladesh and youth role models from the #IWasThere campaign ran a series of events to raise young people's voices and give them an audience with employers, government representatives and others.
Learning from role models
The events opened with dialogue sessions facilitated by youth role model Habiba Akter Lipy, who shared her journey as a female entrepreneur. Other youth in attendance also shared their experiences as employees, entrepreneurs and even drop-outs in response to her story.
Manyul, a young man who overcame the odds to open an eye clinic in his home village of Puthia, was another one of the role models who shared their inspiring stories with young people and other stakeholders. The audience were hooked and asked Maynul and the other young entrepreneurs lots of questions about the challenges they had overcome and their future plans and ambitions.
"This type of dialogue creates more opportunities for employers and employees, as well as exploring the opportunities for youth in different sectors."  - Maynul, youth role model
Dialogues for change
The youth-led dialogues reached many different stakeholders including employers, representatives from various informal sectors, workers' groups, drop-out youth employees and representatives from local government. This sparked lively conversations between young people and other participants about the weaknesses in ensuring decent work in informal sectors, how decent work indicators can used, the challenges and expectations of employers and employees, and how the government can provide relevant support. This was welcomed by all concerned as a positive step towards addressing the current challenges for young people in the workplace that force some young people to drop out of work.
A focus on decent work
From the conversations with youth, employers were able to better understand the kinds of opportunities they need to create for youth. Some promised to implement measures of decent work, including fair wages, paid leave, health and safety measures such as arranging a First Aid box, decent facilities including separate toilets for females and males, ensuring a harassment-free workplace and providing contracts to employees.
Among the young people, the dialogue led to an increased understanding of the constraints facing the government and employers which mean they cannot always meet all the young people's demands. They also found out about different opportunities for youth that do exist – they just need to have the right information and time to pursue these openings.
"This dialogue will help us to design a new action plan focusing on young people's demands, needs and expectations." - Officer, Sub-district Department of Youth Development
Getting the show on the road
Alongside the dialogues, in Rangpur and Rajshahi young people put on street performances to raise awareness of decent work and unpaid care work. These colorful plays aimed to help the community understand how youth, especially women, are being deprived of economic opportunities due to the responsibilities of household work and poor working conditions. The young actors demonstrated how, even if women do get the opportunity to work, they often have to leave due to unfair wages, job insecurity, inflexible working hours and lack of separate toilet facilities, among other reasons.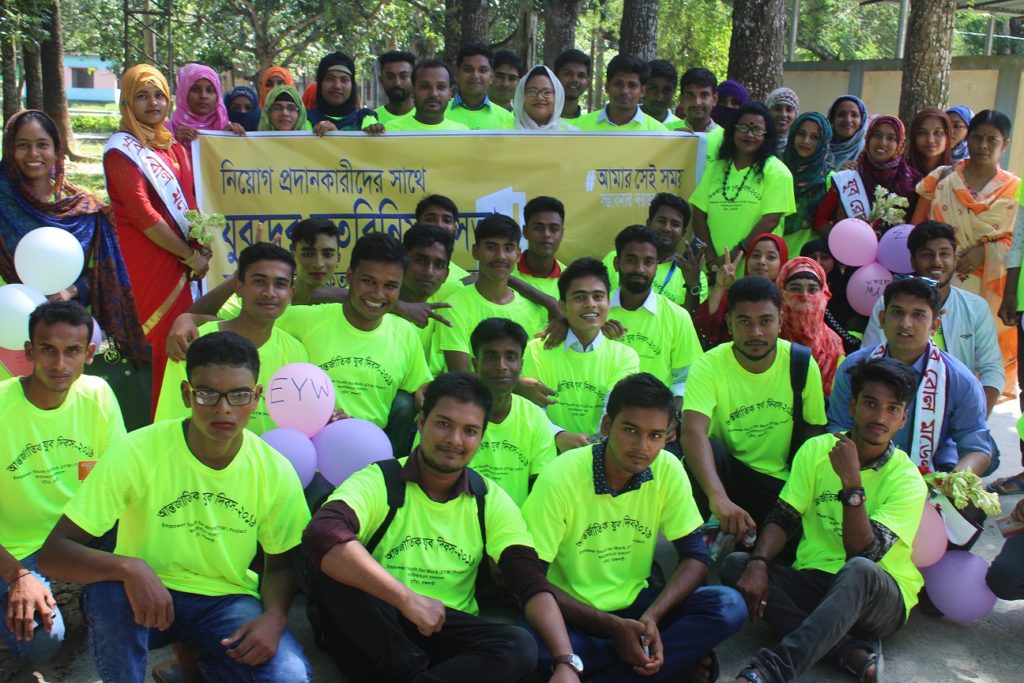 Opening eyes… and changing attitudes
Community members reacted to the street performances in in different ways. While some agreed that care work responsibilities should be shared, others thought it doesn't look good when men take on the work traditionally done by women. Some employers said that they had not known about the decent work indicators, but were now aware of them thanks to the performance. As one government representative put it, the performances were an eye-opener for the community – encouraging more openness about women working outside the home and the obstacles they face.
"We never thought about unpaid care work responsibilities this way, but this discussion and drama will work as an eye-opener for me and people here as well." - Government officer of Sub-district agriculture of Rajshahi
*EYW's partners in Bangladesh are CODEC, RDRS-Rajshahi, RDRS-Rangpur, UCEP and Wave Foundation