Celebrating the 43rd International Women's Day in Ethiopia
On International Women's Day on 8 March 2019, young people joined government officials and the wider community at a lively and colourful event organized by Empower Youth for Work partner, HAVOYOCO.
International Women's Day is a highly celebrated international event, which aims to protect women's rights and promote women's social, economic, cultural and political empowerment. The celebration is also an opportunity to raise awareness in communities of the need to eradicate harmful practices against women and violations of their rights.
In Wajale in Ethiopia, the 43rd annual International Women's Day was celebrated with an event organized by the Horn of Africa Voluntary Youth Committee (HAVOYOCO), an Empower Youth for Work (EWY) partner, in collaboration with Wajale City Council Women and Children Affairs.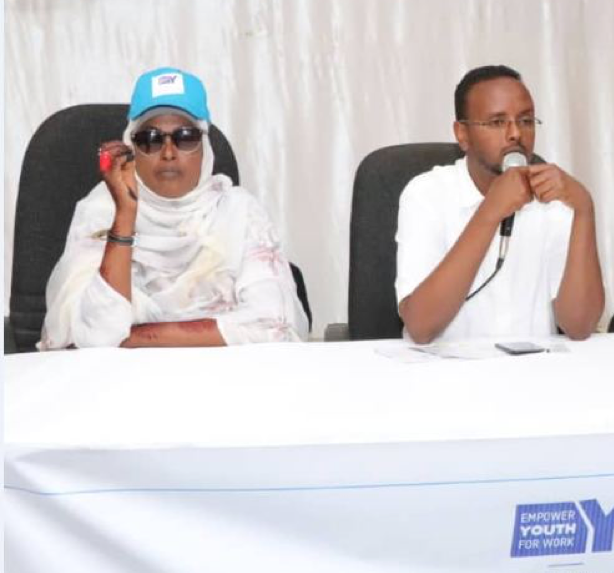 The event reflected this year's universal theme of 'Balance for better'. More than 220 people took part, including civil society representatives, government officials from Wajale City Council and administrations of the six kebeles (neighbourhoods) of the city, the head of investigation of the city's police, female members of the national army, and religious leaders, community elders, mothers and young people.
The celebrations were opened and participants welcomed by Mr Abdulahi, who leads the HAVOYOCO Empower Youth for Work (EYW) programme. He spoke of how International Women's Day started, its founders, how it went on to become a global event, and what has been achieved by celebrating the day throughout the years.
A young artist, Hoden Ahmen, read a poem she had written about the value of mothers, and how they raise, educate and train their children for a brighter future. In her conclusion, she said: 'It should not have been necessary to establish advocacy offices for women's rights, if you (men) had not been oppressing and violating women's rights,' and she urged men to take care of women.
'A precious day'
Several special guests made passionate speeches, including Commander Su'ad from the Wajale police force, who said:
'Today is a precious day. We are able to make some progress forward, after we came across many challenges, including women's rights violation and physical violation (female genital mutilation). As can be seen from the theme, it's the day for balancing gender to better our lives. So let us promote women and make them participate in politics and leadership issues.'
Abrehet Araya from the Wajale base of the national army also emphasized the importance of the process towards women's empowerment. She reflected on how, in the past, even the most basic women's rights did not exist, and that moving this process forward, step by step, will achieve a higher rank for women in the future.
Ahmed Aden Mader, head officer of Wajale City Council Youth and Sport Bureau, made a speech stressing the importance for women of health facilities, education services and water supply, and how provision of these needs to be further strengthened.
'Every day should be women's day'
City council representative Mr Mukhtar said: 'Speaking on behalf of Wajale City Council Administration and in my own name I'm very glad to celebrate this International Women's Day with you, and I would like to congratulate you for being part of this well-organized event. To speak truly, International Women's Day should not be a single-day event, because every day is women's day, so 365 days throughout the year should be women's day ceremony.' Closing his speech, he added:
'Women, especially mothers, are the best examples of human beings. They are the ones who produce teachers, doctors, engineers, presidents, businessmen… Mothers are a complete government by themselves. So it's totally shameful to oppress them and violate their rights. We are always with you.'