International Youth Day in Pakistan
To celebrate International Youth Day, the EYW team in Pakistan organized a symposium on the theme 'Decent Work for Youth.' The goal was to create mass awareness so that young people, especially graduates, were able to understand the importance of decent work and the closely associated rights and responsibilities while opting for jobs in the formal or informal sector.  
"Anti-harassment practices are a crucial area for making workplaces safe, where there should not be any discrimination on the basis of race, gender or ethnicity." - Razi Mujtaba Haider, Representative from the International Labour Organization in Pakistan
A space to raise awareness
The event was held at a university in Lahore, targeting the urban-rural mix of young female graduates that would be entering the job market. It served as a platform to raise awareness about the job market, while giving them the opportunity to share their concerns and challenges through an interactive symposium with stakeholders from the International Labor Organization (ILO), Punjab Safe City Authority (PSCA), Pakistan's Workers' Federation (PWF), Employers' Federation of Pakistan (EFP) and more. In addition, the Minister of Labor and Human Resource in Punjab attended the event and discussed the government's initiative regarding youth's economic empowerment and safeguarding workers' rights.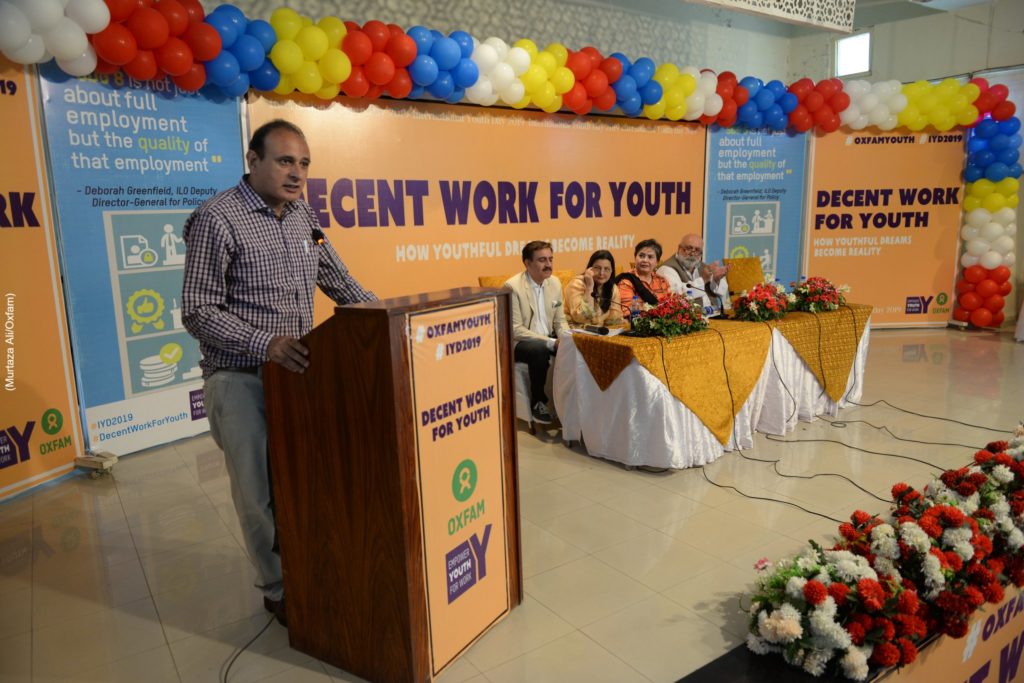 This forum and the highly engaging discussion put the spotlight on the different work practices in both formal and informal work. Among the points discussed was that companies are reluctant to uphold the ILO-prescribed decent work guidelines. Additionally, employers are unable to demonstrate commitment to gender equality and implement a gender policy covering hiring, training, promotion, harassment and grievance reporting. 
"I hope to see young people get more opportunities to showcase their ideas. Because the problem isn't a lack of ideas, rather a lack of platforms to share ideas on. These platforms need to be secure as well – particularly for girls. Free from harassment, power abuse, gender-based discrimination." - Alisha Khan, 23, Co-founder of Aqas Event Organisers
Empowering women by empathizing with men
At the event was Alisha Khan, a young entrepreneur and role model from the digital #IWasThere campaign. She shared the story of building her start-up and spoke to the audience of the value of family acceptance in women pursuing careers of their choice and breaking through stereotypes. She encouraged empathizing with men and understanding their positions, so that they too can help and support women in their endeavours. 
"Often, men are misunderstood in our culture. They aren't aliens; they are humans too like us. And with empathy and communication, we can make them understand that men and women both have equal rights. And that at times, women can go on to achieve more than a man, and it's not a matter to feel insecure about. It all depends on how we convince them or make them understand our rights and needs. There's a way to deal with one's family. Unless we believe in ourselves, and unless we are aware of the law and our rights, we cannot get anyone else's support in our endeavors."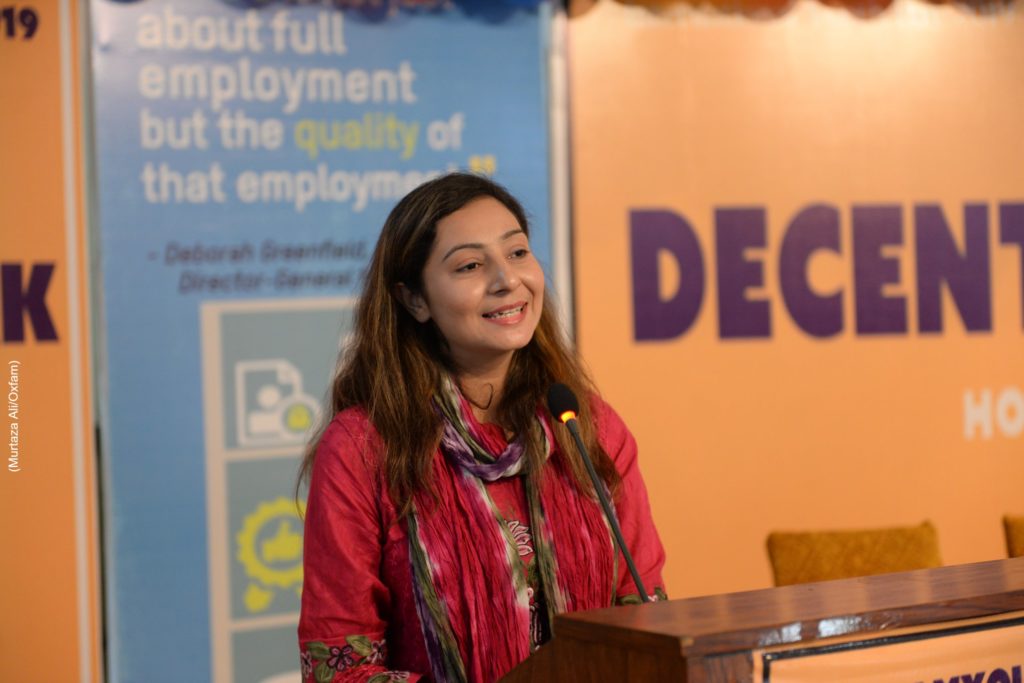 "I want to motivate more young people by sharing my story with them on as many platforms as possible; if they see that someone their age with a similar profile can do it, they will believe the can too."- Alisha Khan
Alisha was also joined by Muhammad Hamza, founding member of the startup Kamayi that is bridging the gap between industry and workers through tech-based solutions. This urban-rural, gender balanced duo demonstrated that if young entrepreneurs can work hard and create a decent working environment, then the big moguls should too. 
Widespread impact
More than 300 young people together with Youth Innovators and other stakeholders attended the event. Young people from the University of Home Economics, as well as youth innovators of EYW, came full of eagerness to learn. The interactive symposium gave them a platform to voice their challenges and struggles in obtaining any job, lest a decent one. They were enthusiastic to hear from the role models and were placed in contact with them for future projects. 
"I feel that through their efforts, even if the role models couldn't bring a revolution in our society, they are still the real agents of change, playing their part for community development and bringing change bit by bit." - Amna Ibrahim, audience member working as Project Coordinator with GODH (Grass root Organisation for Development of Human being), a children's rights organisation