Joyeeta Award. And the winners are...
Congratulations to the six young people from the Empower Youth for Work program in Bangladesh who received the prestigious 'Joyeeta Award' in December 2019 for their work as entrepreneurs and as fighters of oppression – setting an example to women in their own communities and nationwide.
The annual Joyeeta Awards in Bangladesh – a government initiative introduced in 2011 – have made a big impact in raising awareness of women's empowerment in society. Every year, the awards are given to women who have shone in particular areas of life, including entrepreneurship, social development, education, employment, motherhood, and prevention of repression. They are presented on 'Rokeya Day' on 9 December, which celebrates Begum Rokeya, a pioneer of women's liberation and education in South Asia.
This year, six young women from EYW program were among those receiving a Joyeeta Award.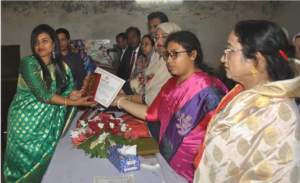 Sumi Akter is a young entrepreneur from Barishal district. She took part in soft skills, technical and entrepreneurship training, and received cash support from EYW. With this support and her own savings, she started a garments business and now runs a successful shop, employing four other women as dressmakers. Sumi was thrilled to have her hard work recognized when she received a Joyeeta Award in the 'successful entrepreneur' category.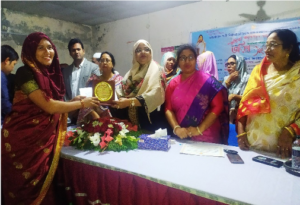 Tania Akter, also from Barishal district, won a Joyeeta Award in the 'prevention of repression' category. Tania received soft skills and entrepreneurship skills training from EYW and now works as training facilitator, helping other young women to realize their ambitions. She plans to start her own business soon.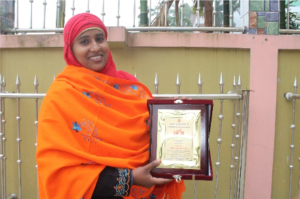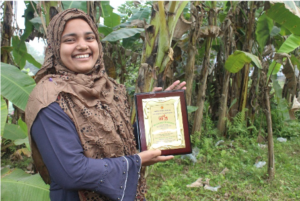 Sima Khatunm, also from Rajshahi, won a Joyeeta Award for prevention of repression. Having been in a difficult marriage from a young age, Sima had to fight hard to change her fate. She received soft skills, vocational and entrepreneurship training from EYW. This inspired her to start working as dressmaker, before going on to set up her own poultry business.
Aktarun Khatun from Rangpur district is another successful entrepreneur who received recognition in the 2019 Joyeeta Awards. Aktarun employs four other women in her innovative business, which upcycles old cement bags, turning them into attractive new products and minimizing waste.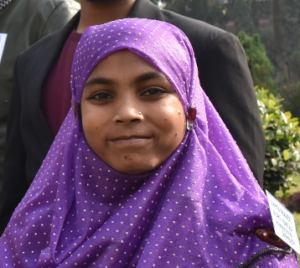 Kamrunnahar Begum from Rangpur district received a Joyeeta Award in the social development category. Kamrunnahar received soft skill and business development training from EYW; she now shares her learning with other people locally, encouraging girls to continue their education and follow their dreams. Kamrunnahar has started a successful vermicompost business (using worms to create compost) and sells basic health supplies in her community.
These six inspiring young women are setting an example in their own communities – and nationwide – showing how with hard work and the right support, women can overcome the odds to forge a successful future.