Honoring mothers for all they do
On Sunday, Mother's Day will be celebrated in several countries around the world. A day for children and husbands to honor mothers and grandmothers for all they do in raising children. 23 year old Rumi is a mother, wife and entrepreneur in rural Bangladesh. "Education starts at home – I learnt this at school. Though I am not much educated, I dream of being a mother to an educated child."
Rumi was 15 when she stopped attending school. Her family's financial situation didn't allow for her to pursue that path.  She got married and her dream of going back to school was never realized.  Many young women in Bangladesh face similar situations, as 59% of them get married before they turn 18 years old (UNICEF,2017).  Nevertheless, today Rumi is not only a a wife, but also a mother and entrepreneur.  She now learns to combine work and family.  At sunrise Rumi starts her day with morning prayers. Her husband Quddus, leaves the house around 8 and works until sunset as a day laborer, leaving Rumi to take care of household work and their daughter Moni.  She makes sure her daughter has access to quality education and seizes this opportunity to its fullest.  She always makes time for Moni, she says. "I make a point out of it, especially with schoolwork. Sometimes we make homework when I am having a break from household chores but usually we make it in the kitchen, while I am cooking.' Rumi does everything in her power to create a financially stable environment for Moni. The investment she made in her sewing business is laying a firm foundation for the future.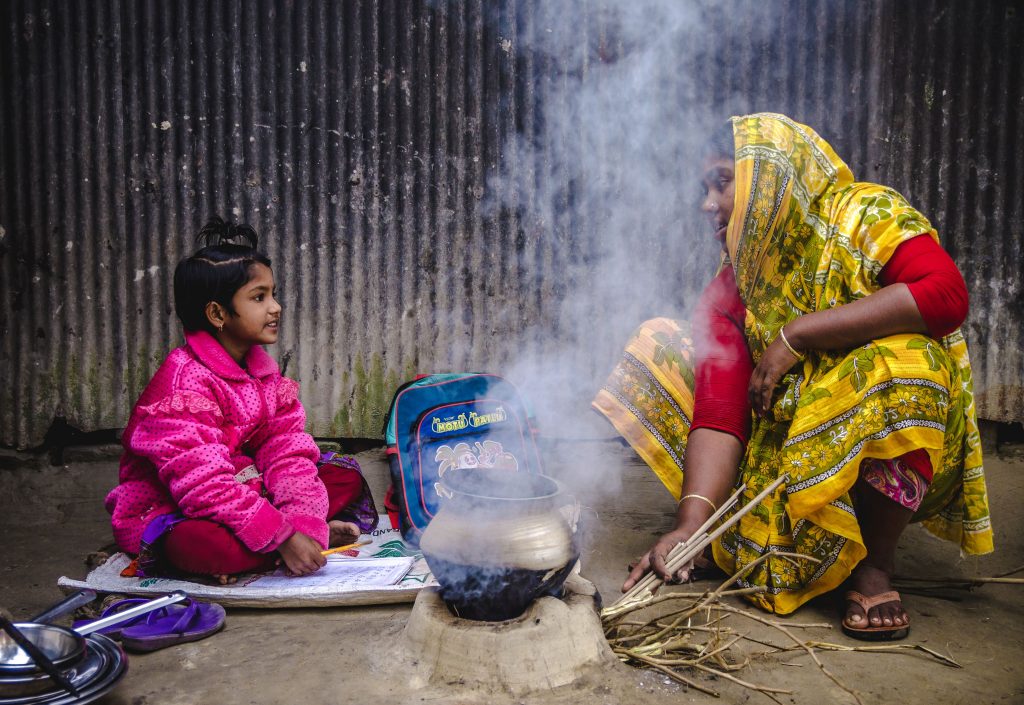 "I want to set an easy path for my daughter, one through which she will establish herself. Our poverty will never stand in the way of her studies."
Becoming an entrepreneur
Just a few months back, Rumi met Shefali -a representative  of the Empower Youth for Work programme. Shefali motivated her to participate in a soft skills' training. In the beginning, Rumi was skeptical about it, believing it was irrelevant and would only cost her time and money. But with Shefali's reassurance that she could explore a variety of useful skills, Rumi started to like the idea, plus the travel expenses would be compensated.  She could however not fully commit without discussing it with her husband and mother-in-law. Quddus' mother ended up playing a key role in making things happen. She convinced her son and offered to taking care of her granddaughter while Rumi was in training.  "Luckily, my husband agreed.'' Rumi was taught a number of skills, such as sewing, making of  jute handicrafts and how to take on the path of entrepreneurship. The soft skill module on "Economic engagement and planning" gave Rumi a clear idea what direction she wanted to pursue. With a mentor offering guidance, support and motivation, Rumi  borrowed 7,200 BDT from Aalo, a local NGO and bought a sewing machine. This way she could work from home. With the right mindset and commitment her journey as an entrepreneur began.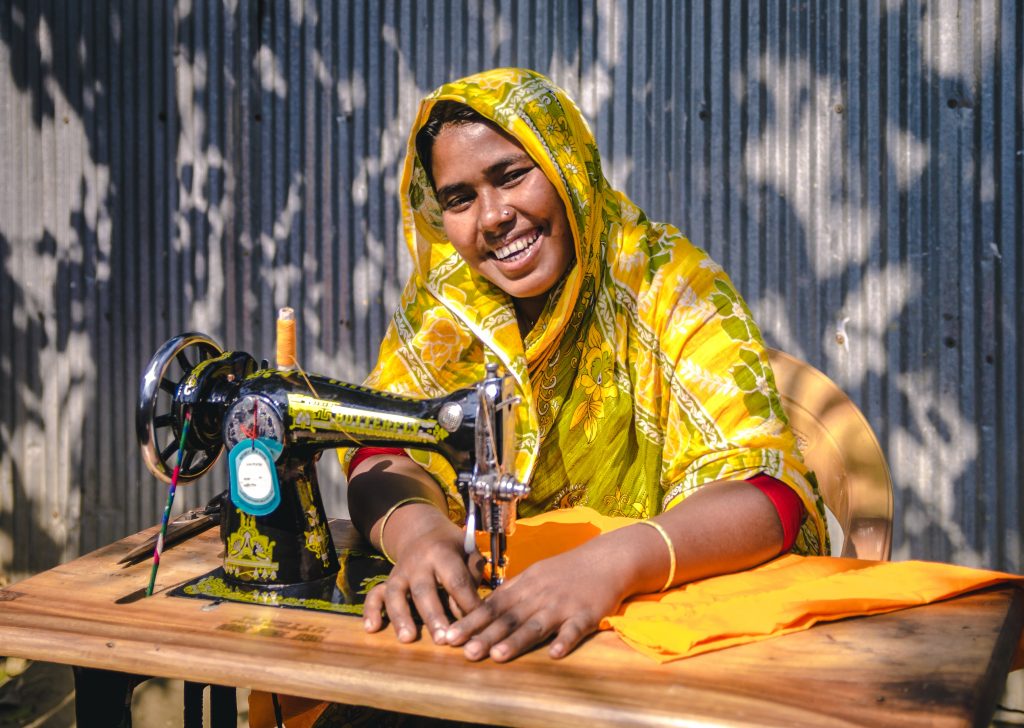 "I was completely unemployed before getting involved in the programme. I had dropped the idea of being a part of training several times. When I finally joined, it was the best decision ever."
Fighting for a better future
Now that Rumi runs a sewing business from home, she provides a monthly income of approximately 2500 BDT. According to the EYW baseline report the average income of a women who is involved in some kind of formal job is usually 5129 BDT per month. "My skills and speed are improving every day" Rumi says confidently and hopes her earnings will increase within the next few months. Quddus is impressed. He constantly encourages her by helping out with daily chores. Rumi wishes to continue her business to assure a better quality of life for her family. Already, she manages to provide enough financial support to pay for Moni's education and to pay off old debts. Her main priority is to make sure that Moni keeps attending quality education and will not be forced to drop out from a school like she did. Her greatest wish is Moni's independence, the freedom to decide when and to whom she wants to get married.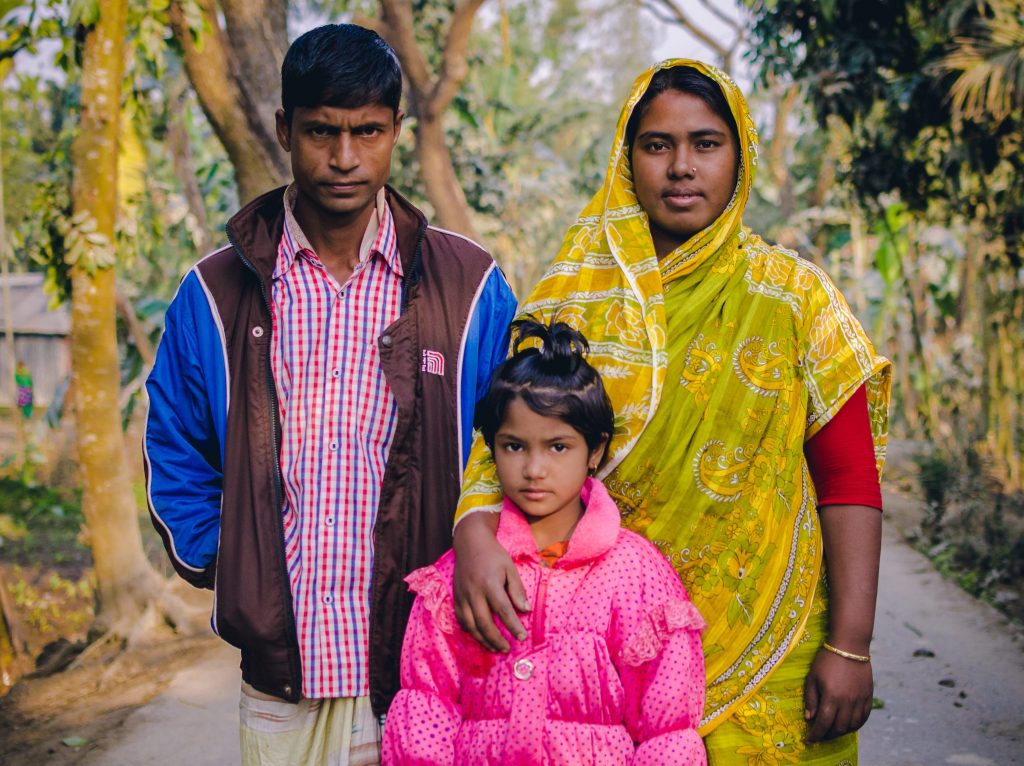 "My daughter will only be eligible for marriage when she becomes independent. I shall never ruin her life due to society's pressure. Nobody stood by me at that age, but I believe in the support she gets from my husband and in-laws. "
Photo credits: Syed Tasfiq Mahmood