Save the date: Empower Youth for Work Virtual Symposium 2021
How youth from rural climate change-affected areas achieve economic independence and shape their society
 09:00 -13:00 (CET), 14 & 15 September, 2021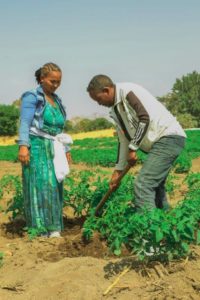 Aisha Tola is a young women living in a rural climate change-affected area in Ethiopia. Despite the lack of job opportunities and discriminatory gender norms, Aisha managed to establish the 'Abate, Alemitu and Friends Farming Enterprise' with her friends after receiving the trainings and entrepreneurship opportunity through the Empower Youth for Work (EYW) program. She got a loan from a microfinance institute and rented a piece of farmland to grow tomatoes. Since then, her live has improved enormously. Today, Aisha's enterprise continues to expand, creating opportunities and bringing inspiration for other Ethiopian young people (read more). 
There are many other young people like Aisha who empowered themselves to make changes in their lives and wider society. EYW is such a program that believes in the power of young people and commits itself in supporting them along their empowerment journey. Over that past 5.5-year (2016-2021) of implementation, EYW has directly supported 141,127 young people from rural climate change-affected areas in Bangladesh, Ethiopia, Indonesia and Pakistan to become change agents, to find new and improved jobs and enterprises and to become champions to change social norms in their communities.  
To share the great amount of learnings and lessons captured throughout the program, a Virtual Symposium will be organized to bring young people, implementing partner organizations, private sector, knowledge institutions and international organizations to a series of dialogue sessions. Particularly, we will zoom in on topics such as meaningful youth participation, social (gender) norms changes led by youth agents, climate change adaption, youth employment and entrepreneurship. These dialogue sessions will be conducted through Living Library, Innovation Booster, Panel Discussion and other interactive methods.  
For more information about the EYW program and Virtual Symposium, please check out our website: https://www.empoweryouthforwork.org 
If you have any question, please contact: Gwendolyn.Parami@oxfamnovib.nl or Carin.Boersma@oxfamnovib.nl