Turning a crisis into an opportunity - Sopyan's story
When the pandemic forced his campus coffee shop to close, Sopyan could have given up. Instead, he put his EYW entrepreneurship training into practice by developing a new, environmentally friendly product that can be delivered direct to people's doors.  
Sopyan grew up in the village of Pitoe in Pangkep, South Sulawesi. The 26-year-old is proud to be only the second person in his village to have gone to university. As a student, he supported himself financially and gained valuable experience working in various shops and cafés. This gave Sopyan the confidence to start his own business, selling beverages across the campus. Eventually he was offered a permanent shop, which he named 'KOST'. This soon became a popular hangout for students.  
When a customer told Sopyan about the EYW entrepreneurship training, he recognized it as a valuable opportunity to increase his skills and connect with other entrepreneurs. Sopyan took part in training in February 2020 and learned how to apply for a small-business license, run digital marketing campaigns and keep proper financial records.  
Adapting to lockdown 
Sopyan was excited about applying his newfound skills in his business, but in March when Covid-19 reached Indonesia, he was forced to close his shop and return to his parents' house in Pangkep. 
However, the EYW training wasn't wasted – far from it. Sopyan kept up his business spirit by taking part in EYW's monthly entrepreneurship discussions and consultations. With the support of his mentors, he began to develop a brand-new product for home delivery. Sopi Kopi, launched in September 2020, is a ready-to-brew packaged coffee from KOST, available in four flavors: Palm Sugar, Special Blend, Milk Coffee and Mocca. "The pandemic may not allow my customers to drink in the shop, but that doesn't mean they don't need drinks – especially coffee!" Sopyan laughs. 
Coffee with a conscience 
"What I apply most from the EYW training is the learning about the 3Ps: People, Planet, Profit" he explains. KOST sourced coffee from Toraja coffee farmers, supporting the livelihoods of this indigenous group. Sopi Kopi is packaged in environmentally friendly paper containers, and the price includes a small donation towards education and the environment. Sopyan is not just selling coffee – he is educating customers and urging them to make a difference.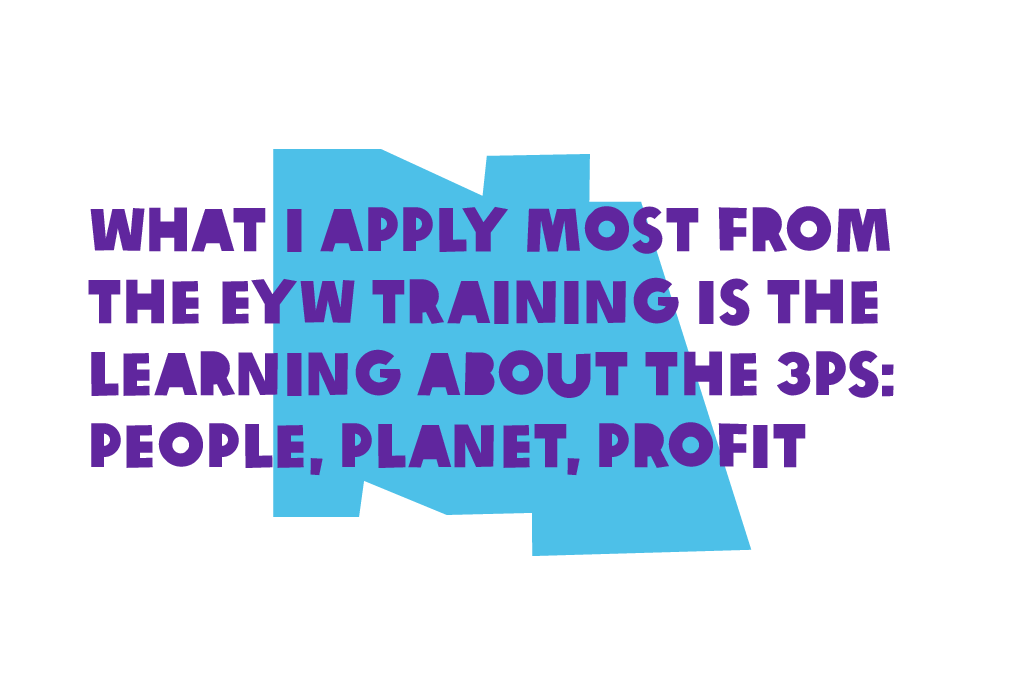 Sopyan really values the connection with his EYW mentors and other young entrepreneurs in Pangkep. "Now there are people to confide in and who can look for business solutions together. We feel that we're not alone, and that's what motivates us."  
He still faces scepticism from villagers – including his parents, who see an office job as a safer option than entrepreneurship. However, this just makes Sopyan even more determined to succeed. His dream is to open several KOST branches, supporting even more jobs and farmers. After all, according to Sopyan, "The important thing is that the business is beneficial for others."