16 Days of Activism in Bangladesh
Since the beginning of the Covid-19 pandemic – in Bangladesh and around the world – emerging evidence has shown that all types of violence against women and girls, particularly domestic violence, has intensified. This year's 16 Days of Activism focused attention on this crisis, with the theme: "Orange the World: Fund, Respond, Prevent, Collect!" From 25 November to 10 December 2020, Oxfam in Bangladesh, EYW partners and young people in Barishal, Khulna, Rajshahi and Rangpur led a wide range of initiatives and activities to call for change.
"What's your role to stop violence against women?"
EYW youth in Rajshahi invited young men to answer this question in an online speech competition, attracting entries from youth across the district. A panel of judges, including the Sub-district Women Affairs Officer and EYW project staff, judged the entries. The winners were awarded with home appliances – a gas burner, a blender and a pressure cooker – promoting the message that care work is the responsibility of men as well as women.
On 9 December, young people in Khulna held a bicycle rally attended by local government officials and members of the public. The young cyclists, dressed from head to toe in orange, lined up (to allow for social distancing) and displayed banners calling for an end to violence against women. Youth groups in the district also organized an online competition, with entrants submitting a range of stories, poetry, songs and art on the issue of gender-based violence and how to prevent it.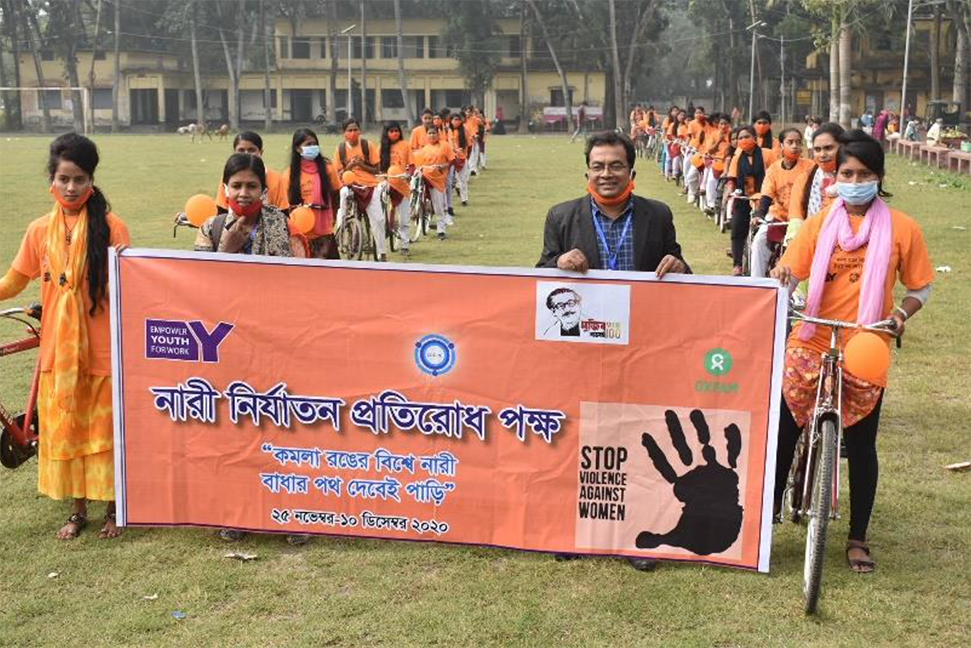 Facing the facts
Youth groups in Barishal collected stories online to raise awareness and encourage family-level discussion, and carried out a survey in six unions. The survey aimed to discover the feelings of people in the community about violence against women, and their ideas for action to address it. Six youth data collectors, one from each union, interviewed a total of 65 people from a range of backgrounds and professions, including farmers, teachers, religious leaders, housewives and students, using a questionnaire provided by the EYW team. The findings were shared with the local government on 25 November 2020 to encourage targeted action.
In Rangpur, young people organized a range of events to support the 16 Days, including blowing whistles and holding up huge red cardboard hands to call for an end to gender-based violence. They also held a discussion session on the issue with local government and sub-district standing committee members. More than 1,080 participants young women and men took part.
Celebrating success with the Joyeeta Award
Every year during the 16 Days of Activism in Bangladesh, the government marks Beguma Rokeya Day on 10 December 2020 by presenting the 'Joyeeta Award' to women and girls who have made a significant impact on women's empowerment. This year, two female youths from Khulna, two women from Rajshahi and one woman from Barishal received this prestigious award from the Sub-district Department of Women Affairs, in recognition of their contribution as entrepreneurs and social influencers.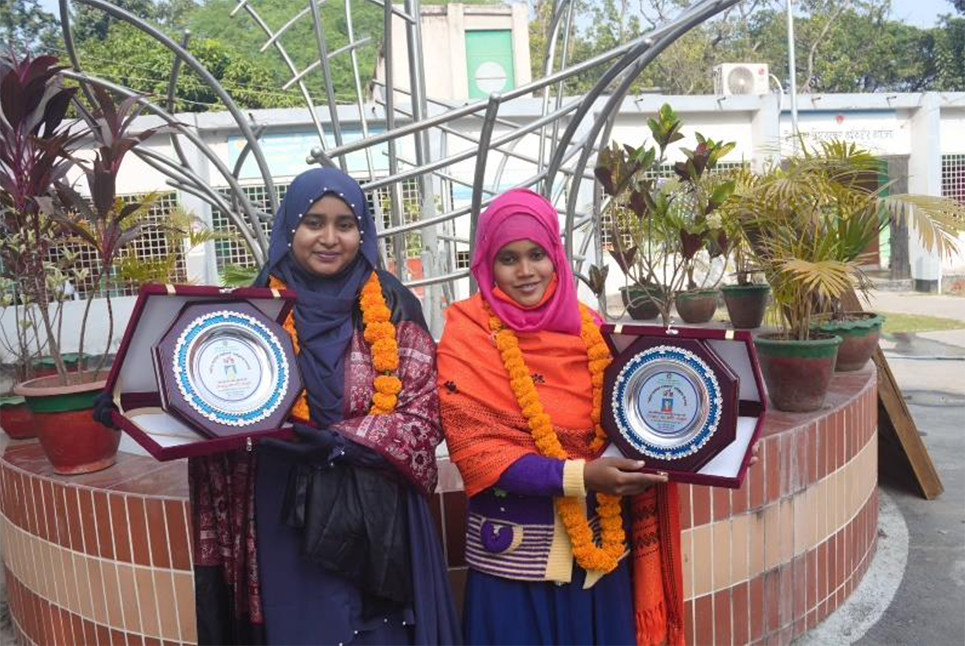 From 16 days to 100 days…
Against the backdrop of continuing lockdowns and a rise in gender-based violence during the Covid-19 pandemic, Oxfam in Bangladesh decided to step up its efforts and run a campaign lasting 100 days. Starting on this year's International Day for the Elimination of Violence Against Women (25 November) and continuing after the 16 Days of Activism to 8 March 2021, International Women's Day, the campaign will call for greater efforts to eliminate all violence against women and girls, with a specific focus on rape and sexual violence. The 100 days campaign started with dialogue meeting and a flash mob at local and national level, and continues with weekly webinars called 'F' Talk: Friday for Feminist. Webinar topics include 'Women's rights are human rights', inequality in economic sectors, unpaid care work and women living with disabilities.