16 Days of Activism in Pakistan
Throughout the 16 Days, Oxfam in Pakistan reached a huge audience nationwide through a mass awareness campaign on the gendered impacts of the Covid-19 pandemic. Several celebrities, including Momina Musthesan, Sana Mir, Usman Mukhtar and Younas Khan, lent their support by posting videos and messages of support on social media. The campaign shone a light on the increase in violence against women and girls, harassment online and in public places, and the impact of the pandemic on women's economic empowerment, unpaid care work, girls' education and female mental health.
"Lockdown patriarchy"
The key call running throughout the campaign visuals, animations and discussions was to "lockdown patriarchy". Video messages presented the issues in an engaging way, successfully conveying the impacts of the pandemic on women and girls. The animations also challenged the stereotypes that perpetuate gender discrimination, and showed how women had stepped up to support their communities and fight the pandemic.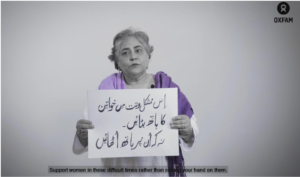 The campaign was developed with the support of Oxfam partners, government departments and a communications consultancy, Talking Sense. It launched on 25 November 2020 and ran until 10 December, to coincide with the 16 Days of Activism. More than 15 million people across Pakistan were reached through TV, radio, mobile phone networks and social media platforms. By broadcasting on terrestrial television rather than satellite or cable channels, the campaign also reached people in isolated rural areas. As well as raising awareness with its thought-provoking messages and visuals, the 16 Days also promoted Covid-19 support helplines for women and girls experiencing violence or abuse.