Innovation hubs: A pilot from Pakistan
A youth hub is a physical space where rural youth can come together for various activities, such as digital and life skills trainings, discussions and access to finance. Through youth groups, young people are connected to the hubs to access capacity-building services for better employment and entrepreneurship. This concept has been piloted in Indonesia, Pakistan and Bangladesh.
In Pakistan, two hubs have been launched as of January 2018 in Layyah and Jamshoro regions. The main goal of the innovation hubs is to be a safe place for youth where they can access services, entrepreneurial trainings and have income-generating activities. Additionally, trainings are provided regarding agriculture, farming, entrepreneurship, jobs, ICT and life skills, business incubation, and financial and entrepreneurial support for business establishments.
What makes this pilot innovative?
The youth hubs have been named innovation hubs by the youth and partners, since it is a place where young people can test their innovative ideas. The youth are called innovators as they are their own leaders and must think in an innovative manner to deal with the complex challenges they are encountering. The hubs train the youth especially young girls in accordance with market demand in order to encourage youth job placements, and are supervised by mentors in order to improve their start-up businesses.

Methodology
The initial concept of the hubs was developed in collaboration with the Human Centered Design (HCD) consultant White Rice. From the beginning, the youth played an active role in the development of the hubs. The team gained trainings on how to develop and implement their ideas according to the HCD methodology: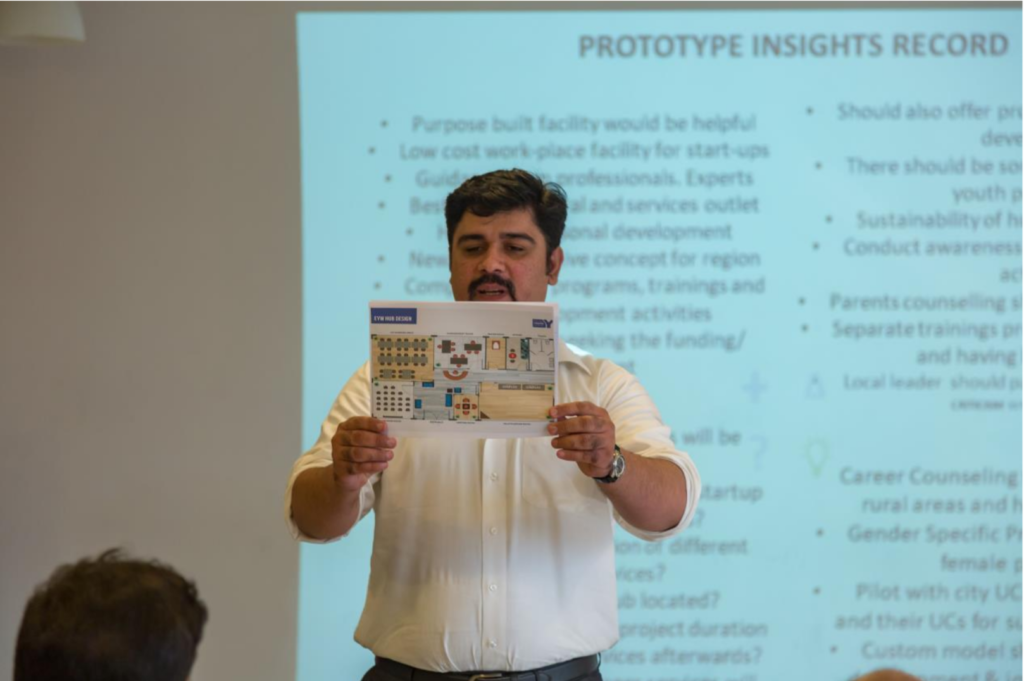 Lessons learned
The biggest challenge that is still faced is making the hubs sustainable, with the right stakeholders leading this. The hub is going to be registered as  a profitable entity with an ambition to reinvest for social good and hopes to sustain is self by, for example, renting out additional or under-utilised spaces. It is important to include the youth as leaders of the hub, however, they do need the right experience and business mindset for making radical decisions, making it hard to fulfil this function.
The rural hubs will be sustainable if the local community has feeling of ownership and engagement as well as partnerships with local stakeholders. Local community engagement can be increased through their meaningful participation, representation, involvement and respecting their volunteer contributions towards the hub and its programs.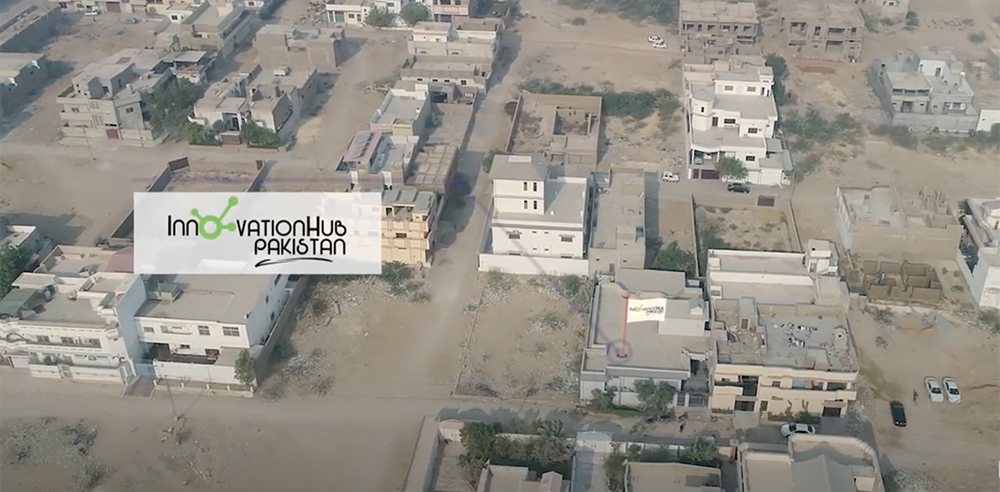 For young women in the target areas it can be hard to access the hubs due to unsafe or no public transport and social norms further hinders-mobility. This was tackled by arranging transport to bring the women to the hubs safely and to put effort in creating a safe environment at the hubs. It is important to build a good reputation around the hubs in order to gain the trust of young girls and their families.
Collaboration with important stakeholders such as the government, universities, the private sector and the community are crucial in order to successfully execute models of hubs.
The selection of consultants is very important, they need to have knowledge about the community, local models, and  a business mindset.
Contextualizing is very important, as the needs of the young people especially young girls need to be mapped properly. The proposed models will feed into these needs, and have to be analyzed based on their challenges and opportunities.
Before I joined the Innovation Hub, I was very scared to go out for work and interact with others. I am volunteering at a non-profit organization that eradicates poverty, and due to the trainings that I received, I feel more comfortable in connecting with other people and know how to be a leader more, which helps me do my work better. I feel very safe at the hubs, the people there really try to make you feel comfortable and they care about you." -Aisha Mallah (20), student and innovator at the hub
Sustainability and scaling
The innovation hubs are registered as social enterprises, and a business model has been developed and shall be tested. The steering committee will consist of 5 different stakeholders: the entrepreneur, the youth, the two project partners in each location, and Oxfam Pakistan. Both locations have a diverse background, different local expertise and markets to which the innovation hubs will continue to serve via micro-business and startup trainings, and relevant aftercare support with nominal charges. In addition to this, the hub will create an online shop and market via e-commerce for these small businesses (having various local products both from Layyah and Jamshoro) to reach out to national and international buyers. This way, the business model of e-commerce will remain the same for both locations while catering to diverse markets and products. Additionally, offering E-jobs at the hubs for a small charge for wealthier students or students from more metropolitan areas could also play an interesting role in subsidizing the hubs. 
There has been successful results in making this pilot sustainable. A hiring process of Innovation Hub Board of Directors was recently completed. On August 17, 2021, the project achieved an important milestone when the first Board Meeting was convened online, in the presence of Oxfam Team and its implementing partner Bedari.  Under the Oxfam Pakistan's Empower Youth for Work (EYW) project, two innovation hubs were established in Layyah, Punjab and Jamshoro, Sindh. These Rural Innovation Hubs are providing training and mentoring support to local youth focusing young girls, to assist them in development of skills, seek employment opportunities and establish their own enterprises.
The Innovation Hub board comprises of 8 directors including 1 Social Champion, 1 Social Entrepreneur, 2 Local Professionals ( One each from Layyah and Jamshoro) and 4 Youth members ( two each from Layyah and Jamshoro). The overall team has 4 women and 4 men. After the completion of Innovation Hub registration process through Security Exchange Commission of Pakistan (SECP) under Companies Ordinance 1984, Innovation Hub will be officially handed over to the new management team. Thus, fulfilling the project's commitment to empower local community and sustain the services for local youth with the focus on young girls and considering the most important aspect of a social enterprise.
 After the in-depth discussions and consultations, the EYW programme will be adopting three models for the sustainability of rural innovation hubs in Layyah and Jamshoro; These models include 1) Income generation through local indigenous products by creating market linkages and setting up an e-commerce store  2) E-Learning Platform – Seekho Pakistan where youth has access to online courses that build/strengthen their capacity to explore job and business opportunities in local, national and international market 3) Support Youth by Delivering Quality Education at Hub locations.
These efforts are thanks to the support of ONL PMU Team, Oxfam in Pakistan Management, Youth and Bedari.