Needs-based modules: A pilot from Ethiopia
This pilot aims to provide quality and youth-friendly training, teaching and learning materials (TTLM) on topics that are relevant to local market demand, such as vocational and agricultural topics. It aims to help young women and men to gain soft, technical and entrepreneurial skills.
In Ethiopia, many young women and men lack training in soft and technical skills that will help them get employed. According to the International Labor Organization, 11,4% of youth aged between 15-24 were not in employment, education or training in 2018. This number tends to be higher for women and youngsters living in rural areas—there are an estimated 11,961,000 rural young women that are not engaged in any such activities as of 2020.  
What makes this pilot innovative?
The content of the modules is chosen based on market demand and adjusted to certain local areas, as their market differs (e.g. in some areas poultry meat is very popular, whereas in other regions chickens are mainly kept for their eggs). Some of the topics covered in the first phase were poultry farming, fruit and vegetable cultivation, construction, beef fattening and coffee processing. In the second phase, topics included hairdressing, kitchen service, electronic maintenance, food preparation, construction, and waitressing.  
What makes this pilot innovative is the integration of gender and climate-related issues. This means selecting topics preferred by women, such as hairdressing and hotel management, and including climate-smart training materials, such as on fruit and vegetable cultivation. An entrepreneurial perspective is also included through business development services (BDS), training the youth on how to run a business (e.g. how many chickens they should have to make profit) and expand and link their business to the market.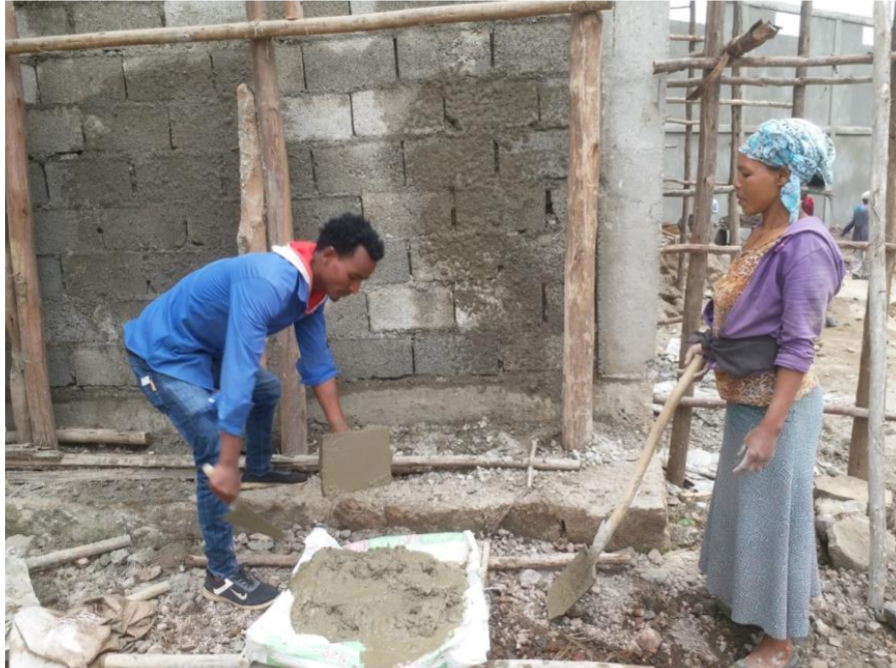 Kurkure and Mohammed, two TVET college graduates, working with their assistants on a construction site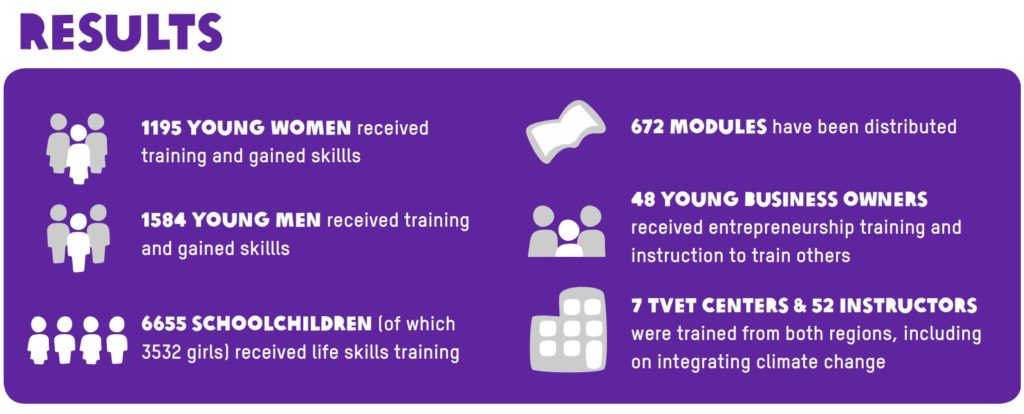 Methodology
To develop this pilot, a desk review was conducted to assess the existing and relevant skill training materials. Additionally, a familiarization workshop was given to the developers of the modules on how to integrate gender and climate issues. All modules have been translated into local languages, and the next step is to also digitalize the modules.
The pilot is run in collaboration with the federal Technical and Vocational Education and Training (TVET) agency. This partner was chosen after consultations with the private sector revealed this expert was preferred for the development of TTLMs, as they are experienced in providing such trainings and have many experts that know how to develop modules based on youth needs. The provision of BDS was facilitated by the Entrepreneurship Development Centre (EDC).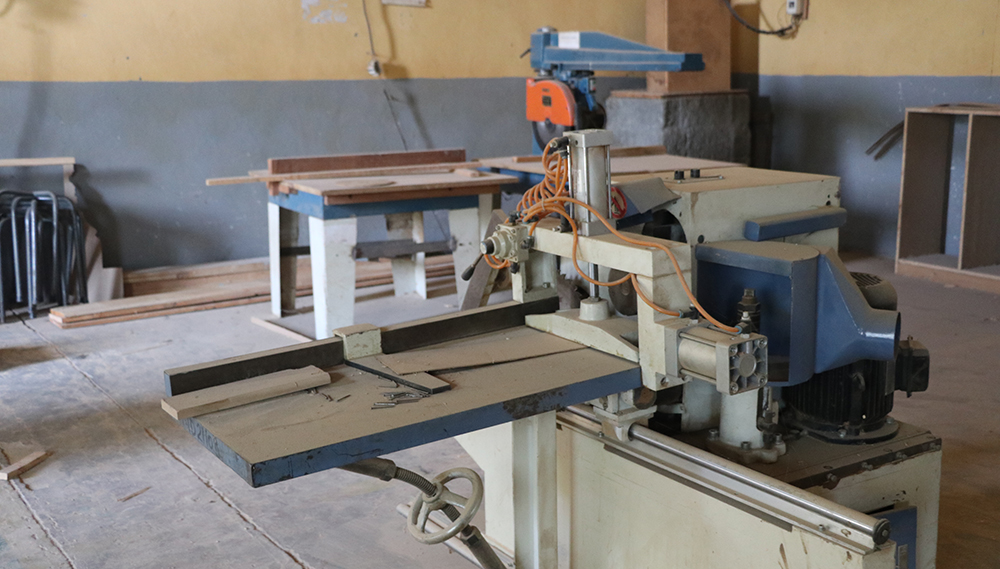 Lessons learned
To address initial reluctance from some families and community members in letting women and girls attend the skill trainings, awareness was raised of the project objectives through community conversations and media communication.

 

An entrepreneurial perspective was included in the development of the phase II modules after evaluations revealed the content of the modules was too technical (e.g. how to prepare food for poultry), whereas the youth also needed to gain information on how to run a business.

 

Local pictures were collected to substitute the original explanatory images that were from white, Western contexts.

 

Gender, climate change and environmental pollution are now also one module, as well as a topic in the evaluation criteria for each module. These were developed after evaluations revealed that these topics were not being tackled in the trainings.
Sustainability and scaling
The modules have been translated into local languages and distributed across many regional TVETs. 

The modules

 

are also adjusted to the market demands of specific localities.

 

EYW is closely working with federal TVETs either to develop 

new modules

 or improve existing ones.

 

Selecting crucial stakeholders and training centers that will continue providing TTLMs after the project has phased out will lead to a long-lasting impact on the intervention areas and beyond.