Apprenticeships: A pilot from Ethiopia
This pilot aims to develop youth apprenticeship schemes, with a focus on women-friendly sectors. Employers are encouraged to provide apprenticeships that include skill-building opportunities, guidance, counselling and decent work opportunities. In Ethiopia, the selected sectors are agriculture, hotel management, garments, construction and carpentry.  
What makes this pilot innovative?
This project has a unique focus on women-friendly sectors. Gender-responsive standards are in place, such as ensuring a safe working environment, equal opportunities for women and men and protocols specific to youth apprenticeships. Additionally, experience-sharing sessions are periodically held with employers to discuss best practices, new opportunities, identify problems and find solutions. Incentive schemes like pocket money and certificates are also included—apprentices receive 750 Ethiopian Birr (22 USD) per month from implementing partners, increasing their motivation to participate.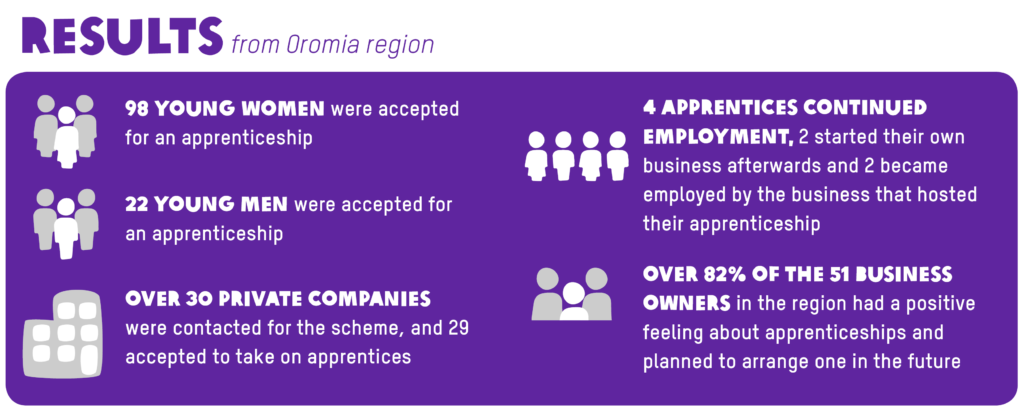 Methodology
A comprehensive needs assessment was conducted in the two regions. A team of experts assessed the perceptions of business owners, their likelihood of taking on apprentices and their preference in terms of gender, age, position and season. Results showed very few female apprentices in the targeted districts, and that existing apprenticeships were often informally facilitated through family networks. Nonetheless, 82.2% of the business owners viewed apprenticeships positively and saw the value in giving the apprentice a chance to learn new skills, creating job opportunities for local youth, and fulfilling their social responsibility. For some jobs, male apprentices were preferred (e.g. garage service and metal works), and for others female apprentices were preferred (e.g. flower farms and restaurants), but the majority did not have a gender-based preference. Education levels did not play a role for business owners, as they believed anyone could learn new skills. These results showed great potential for the ability of this pilot to bridge the gap between willing business owners and young apprentices.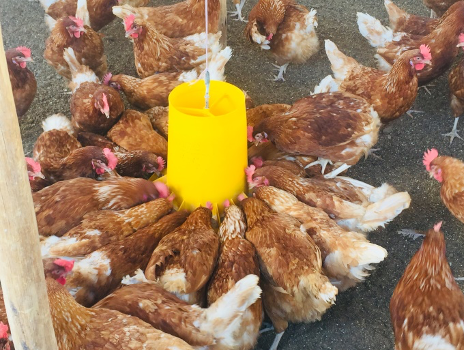 Why this pilot in Ethiopia?
Ethiopia is currently experiencing a youth bulge, with 28% of its population aged between 15 and 24. According to the International Labor Organization, 11,4% of youth aged between 15-24 were not in employment, education or training in 2018. This number tends to be higher for women and youngsters living in rural areas—an estimated 11,961,000 rural young women are not engaged in any such activities as of 2020.  
Many young people find it hard to bridge the gap between education and employment, especially those with little education. The lack of experience and practical knowledge makes it difficult to find a job. In an apprenticeship, youth can gain work experience by getting on-the-job training, which can more easily lead to employment afterwards. However, there are barriers to engaging in apprenticeships. Many regions in Ethiopia lack opportunities, interest from employers, competency-based modules, opportunities for networking and communicating with industries, and most importantly, a lack of linkages between unemployed youth and potential employers.
Young people like me need some support to look at opportunities differently. For instance, I know some beautiful hotels and I see wealthy people using them, but I have no idea what is happening in those hotels to satisfy these people. After I did my apprenticeship at Haile Hotel, my mind was changed and I learned that things are achievable by rearranging existing situations. I am currently running my own small business selling water, tea and coffee, and my goal is to open in big hotel in Shashamane city."

- Meymuna Mohamed Abdullahi (21), female apprentice in hotel management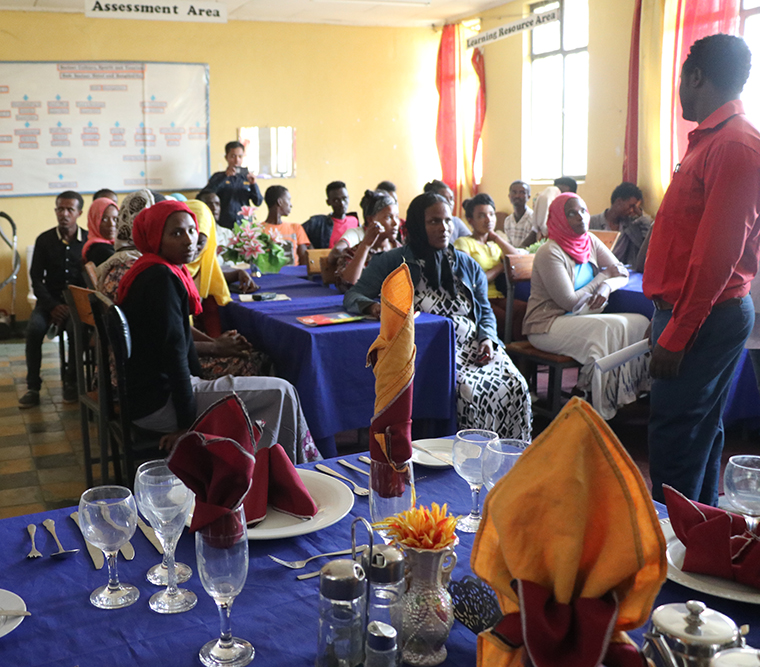 Lessons learned
Fears about the behavior and motivation of youngsters

. There is a perception that young people have attitude problems and lack experience, knowledge, and work ethic. To address this, apprentices should undergo a selection process and an agreement should be signed with employers.

 

Reluctance to give away 'trade secrets' and reveal malpractice.

 This can be tackled through awareness-raising on the benefits of apprentices, as well as incentive schemes to support employers who undertake apprentices.

 

Youth were sent by education institutions to employers with only a letter, without establishing prior communication. 

This made business owners reluctant to train the apprentice, and was addressed by signing a prior agreement to take on students.

 

Gender equality should be actively promoted.

 

Female participation should be encouraged in male-dominated trades and vice versa, and the gender stereotypes of business owners should be addressed

 so that recruitment is based on talent, behaviour and competence instead of gender. 

 

 
Sustainability and scaling
In order to sustain the apprenticeship schemes, it is important to further strengthen partnerships with government institutions such as the Bureau of Labour and Social Affairs, trade and industry, and technical schools. The forming of a job creation platform, wherein the apprenticeship scheme plays an important aspect, can be promising. For this, a stakeholder meeting during which the value of the apprenticeships are stressed is necessary. Besides, a guideline based on project-level experience and learning should be formed in order to influence its adoption by the government.
To learn more about the technical skills training of the EYW project Click Here