Bangladesh year 3 overview
The third year of the project Empower Youth for Work in Bangladesh has focused on soft, technical, vocational and entrepreneurship training. Youth groups build their influencing skills and took part in various youth-led initiatives. Important steps are made towards establishing a National Youth Council. 
Key achievements
In year 3, the EYW program in Bangladesh has reached 20,282 youth through soft skills training. This has boosted young people's self-confidence, assertiveness and communication skills, enabling them to express their opinions, speak out in public, and work together to lobby their local government. Almost 68% of the EYW youth are young women. 1,362 youth received market-driven technical and vocational skills training and 1,229 received training on entrepreneurship to start or improve an existing business. 165 youth group members played a role as change agents, by extending their representation in Youth Advisory Boards from union to district and national level.
The program has helped to place 710 youth in various formal and informal sector jobs. 728 youth have become self-employed, while 372 youth received cash support along with credit and market linkage for their starts-up under the program. Young people have demonstrated how much they have built their influencing skills by taking part in various youth-led initiatives at local and regional level involving multi-stakeholders, including the local government administration. Work to challenge harmful social norms has paved the way for young women to take part in non-traditional training and entrepreneurship, although still in small numbers. EYW has signed an MoU with the Department of Youth Development to form a National Youth Council – a national platform for youth.
Innovation and pilots
A study was conducted to gain an insight into the perceptions of employers in a range of informal sectors on decent work practices. The findings have guided EYW's work to influence the informal sector and to raise awareness among youth about decent work. A Climate-Smart Village has been initiated as model of youth-led actions; this will be used to develop youth skills, business cases and policy-influencing capacity to ensure food and livelihood security, and to promote climate change adaptation, mitigation and resilience. The Rural Hub is engaging youth to operate goods and services businesses as well as to manage the hub themselves.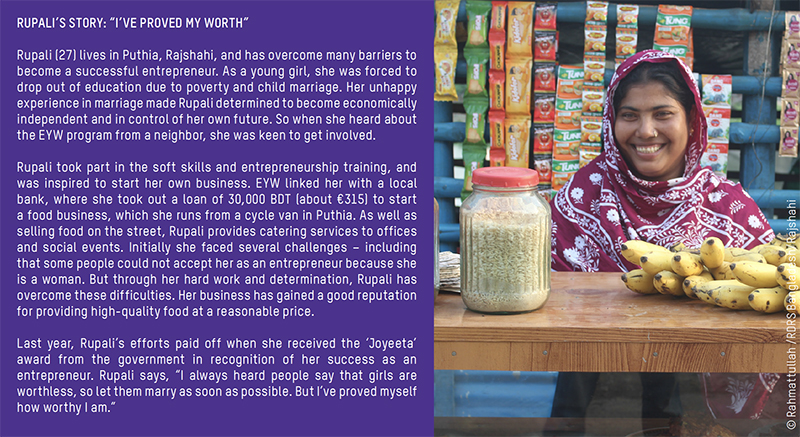 Challenges and risks
It took time to discontinue the partnership with one partner and to induct a new partner, which delayed implementation. Though the program was able to reach 70% females through soft skills training and membership of youth groups, ensuring young women's meaningful participation was a challenge. We are mitigating this by focusing more on family and community-level discussion and engaging more young women in youth-led initiatives. Many young people preferred to wait to compete for government jobs or higher salary private jobs rather than becoming an entrepreneur, which they see as risky. Youth are therefore being encouraged to start up small businesses that will be nurtured over time with the support of a Business Incubator. Inspiring young people to become an active citizen was a challenge; however, the fact that youths' leadership role was acknowledged by the government stakeholders and the wider community was motivating for all.
Year 3 overview in PDF: