The third year of the project Empower Youth for Work in Pakistan has focused on soft and technical training like GALS, life skills, employment,  micro-business and farming. Two innovation hubs are launched and in function.  Next to that there was a focus on create an enabling environment by collaborating with different stakeholders from private sector and the government, but also, amongst others, via theater and campaigns.
Key achievements
In year 3, the EYW program in Pakistan reached over 11,000 people directly (57% women, 43% men). Young people were trained as leaders (Innovators) and master trainers, who then organized village-level groups and delivered trainings on GALS (Gender Action Learning System), life skills, employment,  microbusiness and farming. Farming kits were distributed to 1,172 youth (80% female) to start farming and agri-businesses. Climate-resilient agri modules were developed with and for Sindh University, and EYW collaborated with the Technical Education & Vocational Training Authority (TEVTA) and other educational and financial institutes to deliver youth technical training.
The program connected young people with opportunities and mentorship support, leading to employment and self-employment. A start-up academy was launched in both regions, where 30 innovative business ideas were incubated. Local employers committed to provide job opportunities to young women. Around 200 young people interacted directly with employers at a Youth Expo and Job Fairs. The program collaborated with various local district administrations including the Women Development and Youth Affairs department and the police. In Sindh, youth lobbying resulted in the launch of a Youth Policy. Awareness campaigns on care work, gender-based violence and climate change reached 25,000 community members. EYW formed a District Advisory Board with representatives from media, private sector, government, academia and agriculture.
Oxfam's campaign #YouthKaGreenPakistan encouraged young people to take action for an environmentally resilient Pakistan. Over 446,000 users engaged in EYW's digital media campaign to promote International Women's Day, in which a prominent social media influencer challenged perceptions about care-work distribution. Oxfam organized youth safeguarding training for all partners.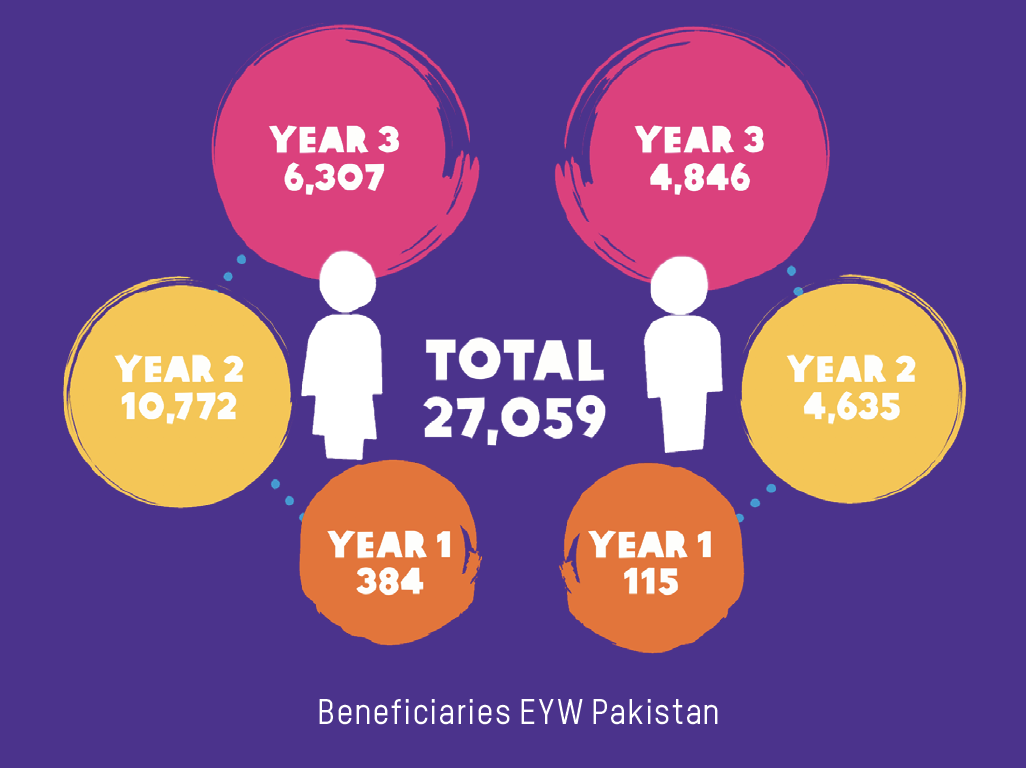 Innovation and pilots
The Innovation Hubs in Layyah and Jamshoro are the first of their kind in rural Pakistan, providing training, mentorship, linking, financing and marketing services. Layyah Hub is powered through 'Solar Energy System', a renewable energy model that helps offset climate change impacts. Advanced farming techniques were adopted for the first time in target areas. EYW initiated an 'e-jobs' pilot in Layyah, connecting female trainees with online jobs and employers, and introduced youth in both districts to e-commerce to sell their products online.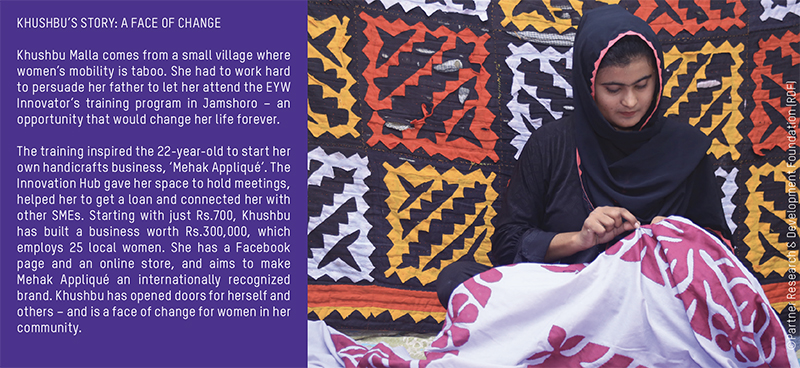 Challenges and risks
The government imposed heightened scrutiny of NGOs/INGOs, including a new Memorandum of Understanding (MoU). This prevents Oxfam working with any NGO that doesn't also have a MoU with the government, as is the case for all three partners. If partners don't receive an MoU, Oxfam may have to disengage with them, with huge implications for implementation. EYW continues to build its relationship with the government to avoid further obstacles. In year 3, time spent disengaging a former partner and inducting a new partner caused serious delays. Access to finance, particularly for start-ups, remained challenging. Oxfam is collaborating with financial institutes to develop a financial product/guarantee system for  all SMEs, microbusinesses and start-ups. Practical steps were taken to ensure Hub sustainability by strengthening business development support to SMEs.
Year 3 overview in PDF: