Bangladesh year 4 overview
In Year 4 of the Empower Youth for Work program in Bangladesh, the lives of many young women in particular were transformed through training, business support and the Gender Action Learning System. Young people used their increased influencing skills to secure space for Youth Hubs, and several EYW youth bodies registered as formal youth organizations that will continue to drive positive change for young people and their communities in the future.
Key achievements - Year 4
In year 4, a total of eight Union Youth Apex Bodies supported by the EYW program achieved recognition for their efforts  to drive change for youth and their communities, by registering as formal youth organizations under government regulations. During the year:
15,255 youths (68% young women) took part in soft skills training.
2,317 young people, including 1,253 young women, took part in technical, vocational and entrepreneurial skills training – clearly demonstrating young women's determination to build their own skills and ability in the face of strong social norms that restrict their mobility and independence.
1,135 youths became economically active through wage work and self-employment.
Many young people face barriers because financial regulations demand collateral, and there is no access to finance for people who don't have a prior relationship with banks. Thanks to EYW networking and influencing initiatives, 179 youths received loans from formal and informal lending institutions in year 4; most of them now also have a bank account and a valid trade license. This is not very common in rural Bangladesh, especially for micro-scale rural entrepreneurs. Business incubation support has created backward and forward market linkages through purchasing on credit from large companies and access to small-scale investment, following a profit-sharing model.
During year 4, youth from all project locations started to set up their own Youth Hubs following the Human-Centered Design (HCD) process. This involved co-creation with various government and non-government stakeholders to align needs and services. The young people used their increased influencing skills and ability to secure the physical space for the Hubs, which will follow the sustainable business model of the existing Hubs.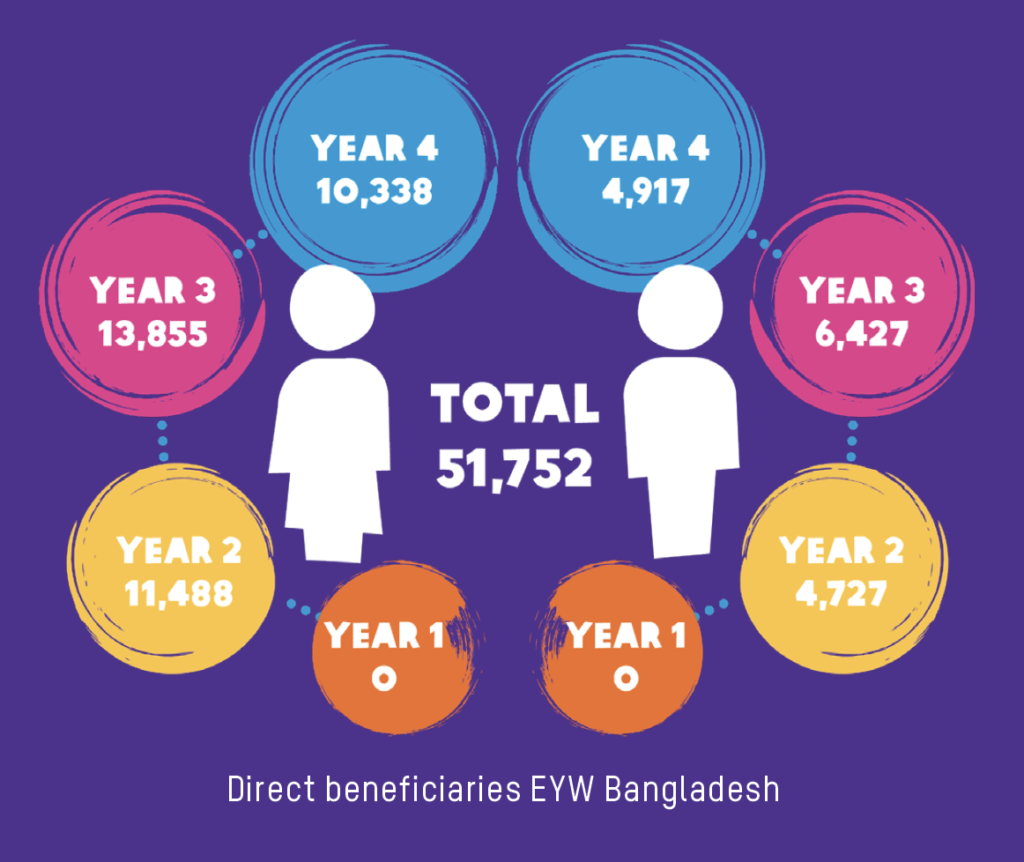 Innovation
During year 4, youth worked with the community, local government administration and partner organizations to realize the vision of making Gangarampur village in Khulna district a Climate Smart Village, building on a pilot model. Renovation of an existing pond sand filter with a solar energy driven motor has given 250 households access to fresh water, in an area where water salinity is the key risk.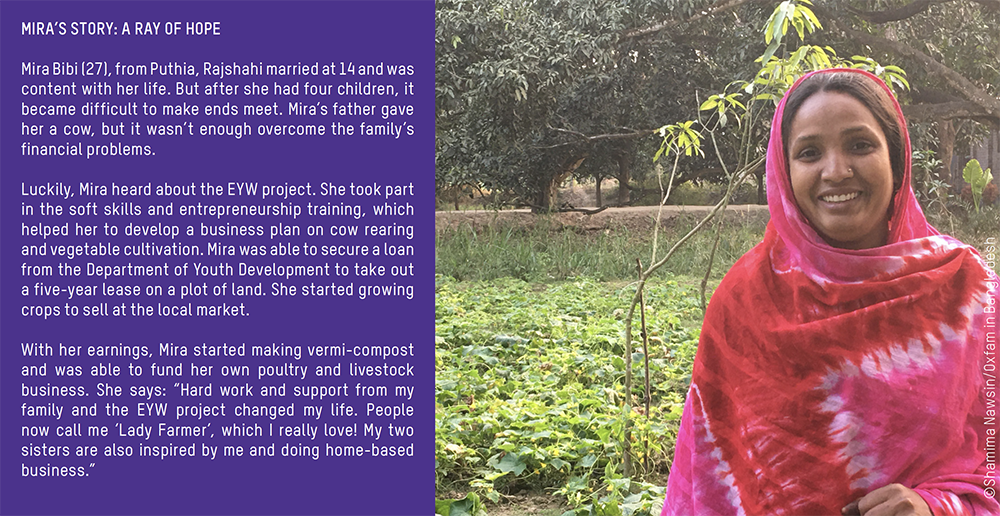 Risk and challenges
Opportunities for young people to grow as entrepreneurs and find decent employment in rural areas are still very limited. Even though the government is fully committed to youth development, the challenge remains to make resources and services available to rural youth.
In addition, the Covid-19 pandemic is a potential risk that could leave many youth without jobs. The team plans to distribute hygiene kits to youth households and families, and youth trainers will provide online training on response activities (following WHO and Bangladesh   government guidelines) to youth peers.
Year 4 overview in PDF: