Climate-smart village: A pilot from Bangladesh
A climate-smart village (CSV) is a youth-led model for climate change adaptation, mitigation and resilience. Initiated in Gangarampur, Bangladesh in 2019, the project aims to develop youth skills while ensuring better food and livelihood security.  

(EYW Bangladesh team also presented the CSV pilot in a webinar organized by the Solution for Youth Employment, World Bank)
What makes this pilot innovative?
Unique to the CSV is that young women and men are explicitly included in decision-making. They are involved in capacity-building activities and grow as leaders in their communities, increasing the community's openness and commitment to new ideas to ensure sustainability. To manage the village, a youth committee was formed that meets weekly, manages the local water filter and disseminates climate and environment-related information to the community. The topics they focus on are agriculture, environment, water and weather.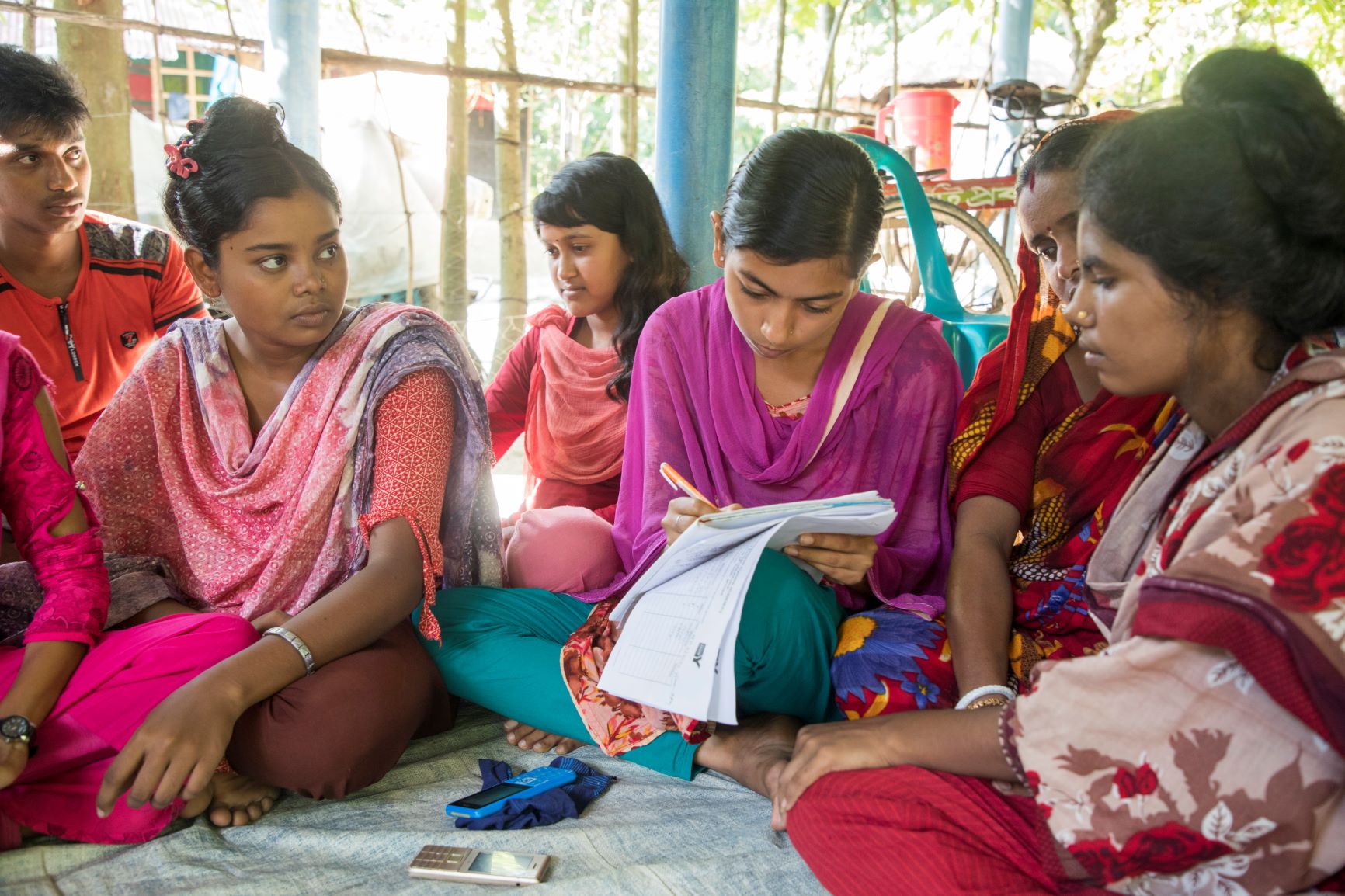 What makes the village 'climate-smart?'
Agricultural sustainability:

 Youth groups execute activities related to crop variety, irrigation, fertilizer management and access to the market. Some young entrepreneurs started organic fertilizer production and cultivating organic vegetables.

 

Disaster management:

The youth

committee emphasize disaster readiness and resilience. They prepared a physical weather board that gives daily updates on temperature and warnings on cyclones or storms. They focus on relocating the most vulnerable community members, and

engage the community in raising funds for disaster responses.

 

Energy use: 

Young people engage in peer knowledge sharing on the three Rs (reduce, reuse, renew) and home-to-home campaigns on the benefit of energy-efficient practices like an improved cooking stove. Their a

ctivities also include planting medicinal and sacred trees, making the village plastic-free,

bird nesting

and collecting signatures from farmers on reducing the use of chemical fertilizer and pesticides.

Water management:

The youth groups helped rebuild the local water filter for clean drinking water, and tried out a new technology using rainwater harvesting.

They also organized campaigns to demand a ban on leasing natural canals and rivers to local farmers and fishermen.

Livelihood expansion: 

Climate-smart enterprises have been designed by the youth that consider the environment, village needs and economic benefits. Some examples are pig and sheep farming, long pepper farming and organic vegetable farming. A homeopathic drug store was also opened to reduce the use of chemical drugs and promote herbal medicines. Likewise, the youth team received trainings on common diseases, and which medical plants to use for which case. They have raised awareness of these practices within the community.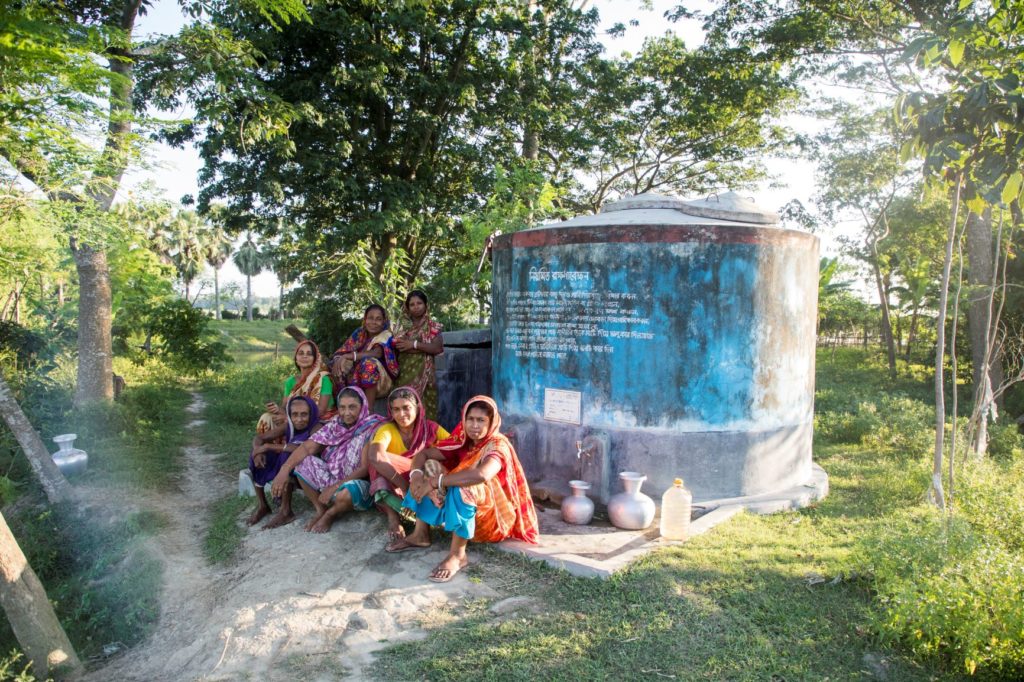 Why here?
Gangarampur, located in the climate-vulnerable district of Khulna, is representative of a typical coastal village of southwestern Bangladesh. Most of the village is dependent on agriculture and fishery for their livelihood. The village faces a shortage of both drinking and irrigation water due to the high salinity of the groundwater, with only one filter in the whole village. Presently, 90% of the village inhabitants use biomass as their source of cooking and almost all villagers have electricity supply from national grid. As there is limited access to quality health services and medicine, people make use of chemical medicines without consultation which is having negative effects on their health.
I am very lucky to have been able to finish secondary school. A lot of girls in my village waste their precious time waiting in line for the only safe well we have in the village to provide water for their families. They drop out of school and their future is wasted. Early marriage and motherhood is what they are facing. I want to stop this by making it happen that more water pumps and filters are available in our village!"
- Tama Sarkar (19), village resident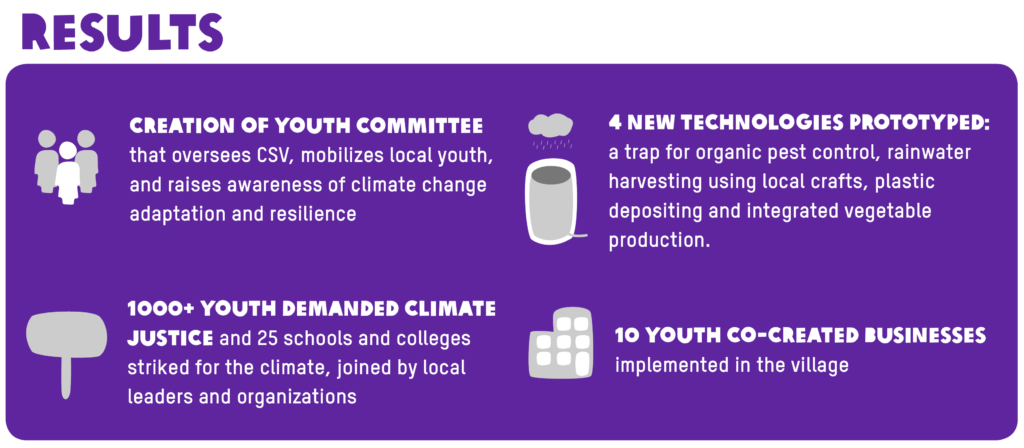 Other results:
9 young people received training and resources to produce organic fertilizer. Their first production was of 450 kilograms, which was used for growing watermelon.
10 young people received an improved cooking stove that burns less fuel and reduces excessive smoke. These stoves were provided by a company at a subsidized price that included set-up costs. Other households have also showed interest in having a stove of their own, utilizing the established link with the company.
Methodology
This pilot is implemented by the EYW project together with the partner CODEC and local climate experts. The pilot was developed using the Human-Centered Design (HCD) methodology, focused on gaining a deep understanding of the problems and behavior of people in order to create innovative ideas. Young women and men were actively included in the development, researching, testing and executing of this pilot.

Inception: A Participatory Capacity and Vulnerability Analysis gave insights into the area's challenges, vulnerabilities and local resources. This data was collected through surveys, literature reviews and conversations with 178 inhabitants of

Gangarampur

, including many 

young people

. Gender and power analyses were also executed to understand social dynamics.

 

Hearing: The youth identified relevant stakeholders, such as the private sector and local NGOs. They mapped existing opportunities and possible interventions using climate-friendly technology. They also learned about budgeting, adaptation and mitigation, influencing and advocacy.

 

Creation: The youth shared their ideas with relevant stakeholders, comparing them with existing initiatives and testing them with end users. They gained feedback and assessed the market for the feasibility of their ideas.

 

Delivery: The youth implemented their plans to be economically viable, climate-friendly and accepted by the community. An implementation plan was included that involves all stakeholders and outlines their responsibilities, ensuring an effective and sustainable execution of ideas.
Scale-up: Local youth leadership is implemented to ensure sustainability, while discussions are in place with stakeholders to scale up the model to other villages.

Lessons learned
Informing initiatives by locals' needs. 

In most cases, local initiatives were more successful than those created externally by consultants. E.g. the dustbin was very popular, as many community members were in need of this.

 

Youth group size matters. 

The initial group of 25 youngsters from the local community was split into four smaller ones. In the smaller groups, the youth became a lot more enthusiastic, aware and dedicated to the project, which enhanced their work.

 

The utilization of local resources was also found to be effective and sustainable.

 Local tree species have a higher survival rate than other species, and locally made products (like dustbins made of nets) were highly 

successful

.

 

Prototyping initiatives creates more active youth participation.

 Due to the practical implementation of the prototype, the idea was demonstrated better and, therefore, engaged more people which is an important for sustainability.

 

Coordination with partners and relevant stakeholder

s

 is very important, as this was not thoroughly done in the beginning of the piloting. The unstructured coordination made the overall communication weaker and, therefore, a more structured coordination process with regular interval (i.e. weekly meetings) is now being done.

 
Sustainability and scaling
Youth leadership and participation throughout the pilot strengthens community-wide influencing and motivation to implement new ideas.

An existing water filter was renovated to become solar-powered. A committee was formed to manage the filter, consisting of youth and community members, which operates as an entrepreneurship model to ensure funds to sustain its functioning.

They

collect subscription fees from households and save it for future maintenance work. Two young people have also been trained on day-to-day operations and portable tools was provided, including 40 jugs for delivering water

 to

distant houses

and shops, which creates an additional income source.

Local government officials have also committed to supporting the water filter's maintenance. 

The climate-smart model has drawn attention of local government and other stakeholders who are willing to replicate the concept to other villages.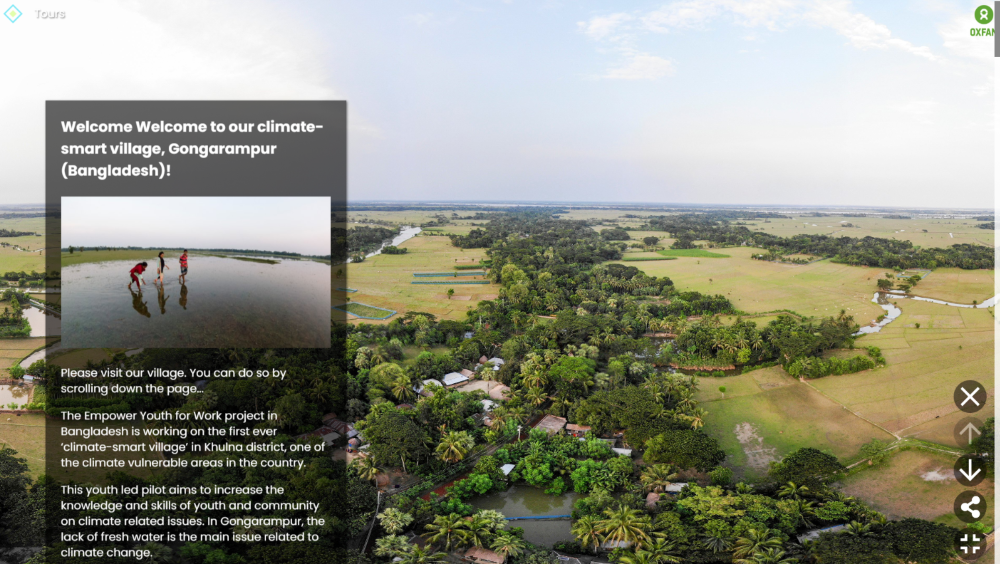 Click the image above for a virtual tour of the climate-smart village!