Gender Action Learning System (GALS) in Pakistan and Indonesia
The Gender Action Learning System (GALS) is a community-led methodology developed by Oxfam for livelihoods improvement and gender justice. It uses visual diagramming tools, principles and peer learning mechanisms that enable marginalized people to develop their own visions of where they want to go. Participants are encouraged to reflect on their situation, map markets and relationships, identify challenges, and take action to address these. Within EYW, GALS has been used in Indonesia and Pakistan to develop youth agency and strive for gender justice.
How is GALS used in EYW?
GALS is a structured methodology for empowerment aiming at economic, social and political transformation. It gives women and men more control over their lives and catalyzes a movement towards gender justice. GALS includes a variety of visual tools, including road journeys, trees and circle maps to enable individuals and households to plan and track changes in their lives, gender relations and livelihoods, as well as identify and negotiate their needs and interests with power-holders.
The tools are also used by cooperatives and other actors like business owners and service providers to change gender and power relations that constrain them from achieving their visions. GALS also provides a structured process for multi-stakeholder negotiation for gender equality, better livelihoods, and improved local economies and value chains.
The main trainers are community members themselves. Within EYW, GALS has been used in Indonesia and Pakistan to:
Strengthening the agency of youth (especially young women), with a particular focus on aspirations, influencing household decision-making, rights awareness, self-esteem, group membership and leadership skills;
Changing gender and power relations so that youth (especially young women) can access and benefit from (self-)employment opportunities;
Making violence against women and girls, discrimination, and the economic, social and political exclusion of women unacceptable in different cultural settings;
Mobilizing youth, their families and communities to change deep-rooted social norms and behavior
In Pakistan, the tools most appreciated by youth include the Local Area Development Map, used to analyze stakeholders influencing the development of the community; the Vision Road Journey, giving the possibility to make plans regarding their future and the possibility to have an income; and the Challenge Action Tree, increasing young people's analytical skills.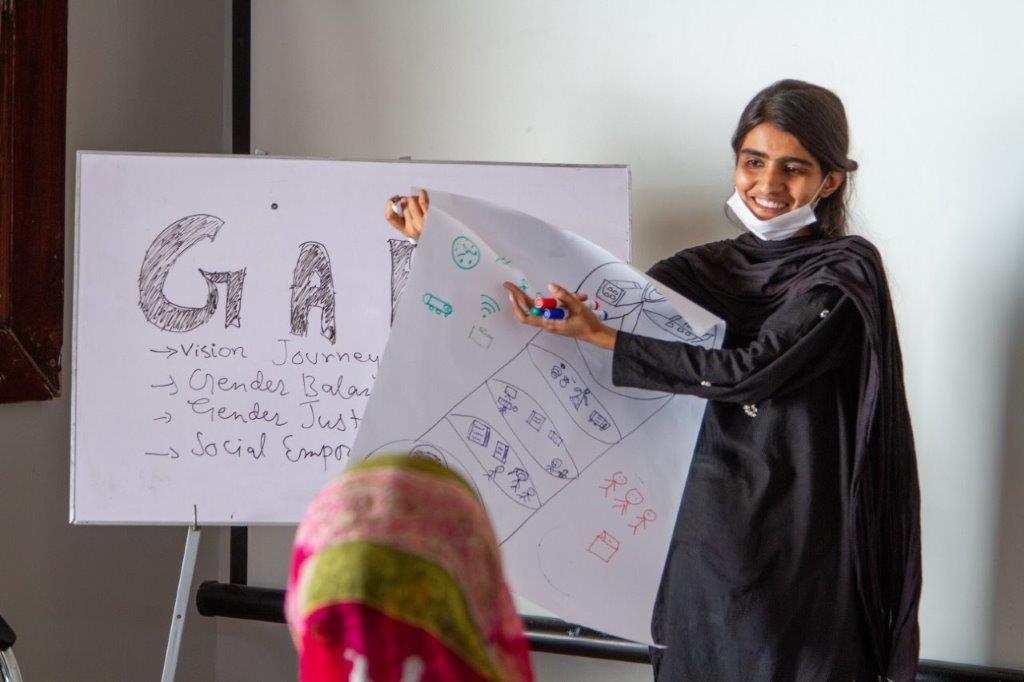 Methodology
GALS was developed under Oxfam Novib's WEMAN program with academic Linda Mayoux and local civil society partners in Uganda, Sudan, Peru and India. It consists of:
A set of principles related to gender justice, participation and leadership;
A series of visual diagramming tools that are used for visioning, analysis, change planning and tracking by individuals, households, stakeholder groups or in multi-stakeholder settings
Peer learning mechanisms and structures for ongoing action learning in communities
Mechanisms to sustainably integrate GALS in organizations or interventions such as financial services, business development services and agricultural extension.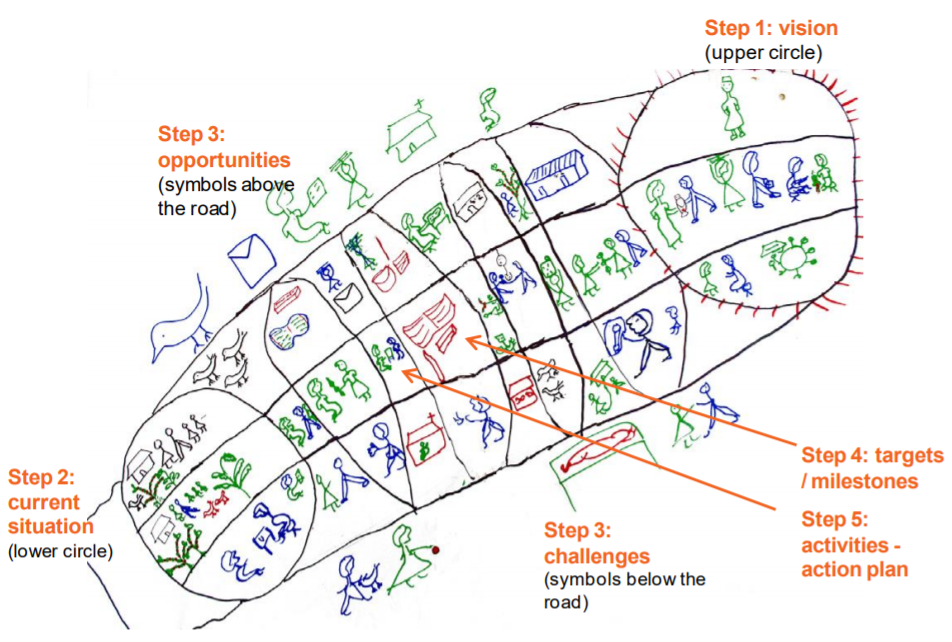 Example of the 'Multilane Highway Journey' tool
GALS is designed as a complementary methodology for economic development interventions. The starting point is:
Developing gender action learning skills of vulnerable stakeholder groups in the value chain, to enable them to identify and implement sustainable strategies to increase incomes, resources, economic choices and negotiation power.
Engaging skills, energies and resources of the private sector and institutional stakeholders in the value chain to change power and gender relations, through the negotiation of win-win strategies. It starts with creating community ownership and action priorities for gender justice during events with community members and the staff of organizations.
The methodology then takes participants through four phases, all of which are participatory and depend on the use of visual, rather than written, material. This makes it ideal for inclusive and effective joint analysis and planning by non-literate with literate participants.
Phase 1: Preliminary value chain mapping of gender issues and power relations.
Phase 2: Action learning with vulnerable groups to identify the poverty and gender issues at each level, implement immediate change strategies, strengthen collaboration and peer sharing.
Phase 3: The identification, planning and negotiation of multi-stakeholder win-win strategies. At this stage, the more powerful stakeholders are involved.
Phase 4: The promotion of sustainable action learning processes, including peer upscaling, policy advocacy, and ongoing change planning in existing platforms.
Lessons learned from Pakistan
The EYW Innovation Hubs served as important safe spaces for young people to engage in GALS. Young people appreciate having a space away from their families and communities where they can get together, discuss, plan, and implement their ideas.
Through GALS, youth in Pakistan are becoming more interest in social issues and start to work on coming up with solutions.
Additionally, young girls have started to discuss and motivate their parents and other community elders to allow them to work. Several of them are already engaging in work.
However, community norms can be very rigid, and it takes time to change perception regarding practices such as sharing unpaid care work.
To have a bigger impact in communities, other youth should be targeted and engaged in GALS beyond the young people already engaged with the Hubs.
Sustainability and scaling
In Pakistan, the team is currently creating video tutorials that are meant as refresher trainings for those who had previously been trained in GALS. However, they are not meant to train new community members as it is difficult to facilitate an empowering process through a video. These video tutorials will be prepared by GALS champions with support from Oxfam Pakistan, their partner organizations, and a video maker. This activity is an adaptation to the limited fieldwork during COVID-19. In this way, previous knowledge will not get lost and GALS champions can keep on training their peers and receive support at distance. Facilitation principles will be applied in the videos themselves, with one video focused specifically on facilitation skills.