International Youth Day in Ethiopia 2020
In Ethiopia, the EYW team and HAVOYOCO marked International Youth Day 2020 with a panel discussion on the theme 'Youth Employment and Decent Work – Now and Later'. The aim was to shed light on what will determine/change the future of work and income generation for young people and to enable youth, community members and policy makers to consider these change factors in designing policies and strategies.
The day was also celebrated with two tree-planting ceremonies involving EYW youth, government representatives and the wider community in Kebribayah and Wajale City administrations. In total, almost 400 people (226 male and 164 female) took part in this year's IYD events.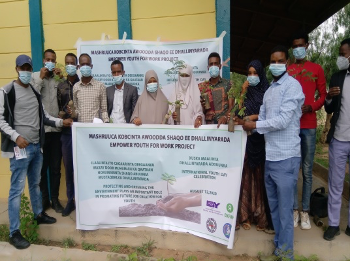 The theme of IYD 2020 seeks to understand the future of work and to take immediate action – recognizing that rural youth are facing unprecedented challenges which are being accelerated by the Covid-19 pandemic. For example, access to the internet is now determining whether or not someone can continue with her/his education or have access to information, including job opportunities. Without connectivity, inequality is increasing.
We have the power to transform these challenges into opportunities.  
However, current policy pays little attention to technological and environmental changes, leaving young people in a vulnerable position. If these trends are not properly addressed, it will increase the inequalities and poverty that rural young women and men already face. Policies and job-creation programs need to adapt to the changing world of work – and the voices of young people need to be heard now to contribute to action plans. International Youth Day 2020 gave young people this opportunity.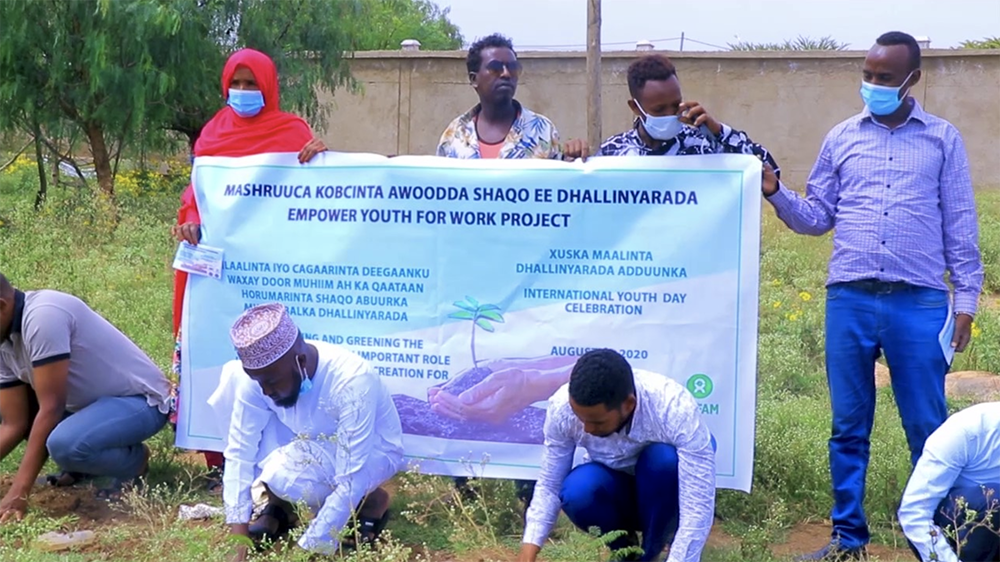 Doing things better
On 16 August, more than 40 different stakeholders and young people came together for a panel discussion, which included representatives from job creation offices and technical, vocational educational and training (TVET) colleges. Government officials and youth motivational speakers gave speeches which led on to the wider discussions. Youth participants explained the struggles they face accessing work and expressed concerns around mistrust created by the government's existing job-creation scheme.
It is hoped that their experiences will inform future support, including the need for:
Training in sellable skills by youth, and more research by government on supply and demand to identify gaps in the market for youth enterprises to fill.
Policies that addresses the challenges in youth future employment, and proper implementation of these policies at grassroots level.
More budget allocated to supporting youth employment sectors.
Infrastructural development and better outreach services for rural youth businesses, as well as greater media coverage of youth's voices and needs.
Youth engagement and inclusion at all levels.
Young people's future livelihoods are foreseen to be positive – if, and only if, we are able to address the identified challenges associated with youth employment opportunities in previous years, especially when it comes to nepotism and favoritism." - Lembo, Vice Chairman of BoYs
The panel discussion served as an excellent platform to amplify youth voices. The inspirational talks encouraged young people to follow their dreams and to take part in 'green legacy' initiatives, which will be aligned with other EYW project activities such as the Covid-19 response. The discussion also enabled government officials to present their plans for tackling unemployment in the new year and to explain how these will differ from last year based on the lessons learned.
1,000 trees for a greener future
Young people, government representatives and community members also celebrated International Youth Day with tree-planting ceremonies in Kebribayah and Wajale city administrations. This connected with the national green legacy initiative, as a local contribution to combatting the climate crisis and creating a healthier future environment.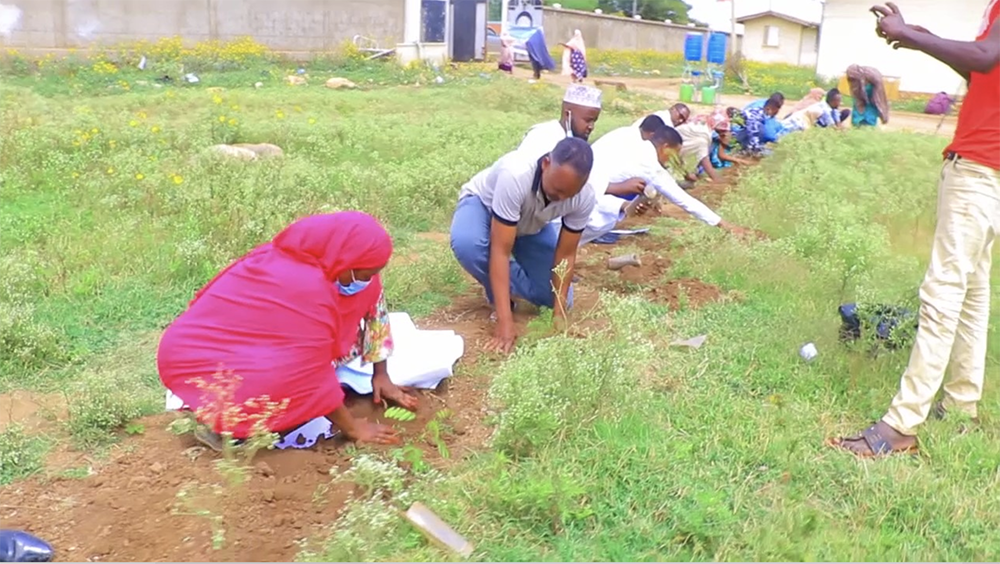 In support of the events, the regional Environmental Protection Forest and Climate Change Agency provided 1,000 seedlings of two varieties: 500 seedlings for each city administration. A high school and a health center were selected for the tree plantation in Kebribayah and Wajale, respectively. More than 700 seedlings were planted on the same day and the remaining 300 were distributed to households. More than 350 young people took part, alongside the city administrators. The event was welcomed by people in both communities, and provided another opportunity to share messages on the future of work.