Nature has given me time to think
Maab Fatima, an EYW Youth Leader in Pakistan, explains how young people are contributing to the fight against Covid-19 – and are looking for ways to rebuild in its aftermath.
My name is Maab Fatima. I'm from Kotri city, a very small town in Pakistan. I am a youth leader and innovator for the Empower Youth for Work project. I am doing my Bachelor's in Business Administration at the University of Sindh in Jamshoro.
Our country has never experienced any such virus or a lockdown before. This is why it is extremely difficult for people to stay home, while there is also the major issue of poverty. If people don't go out to earn money it could lead to deaths, because here in Pakistan a lot of people die because of hunger. We are trying to stay at home, but the daily wagers of our community have to go out to earn their bread. That's why in Pakistan there wasn't a strict lockdown in place till now, because of the economic crisis. The daily wagers go out to earn their wages and fulfill their basic needs.
EYW young people are also risking their own lives by helping the daily wagers and going out to collect money for those who are incapacitated by the lockdown and unable to earn. This lockdown has also affected thalassemia patients who need blood every 14 days. Some of the young people have been making blood donations for thalassemia patients. People of our community are still unaware of this virus. They think that this virus can't do anything to them, so it's risky for all of us.
Before this, we never realized the importance and value of online communication.
GBV is a huge topic to talk about because people all around the world are staying at home, facing anxiety and depression. Everyone wants to start something new or wants to overcome overthinking, but some have failed to do this, especially girls who are facing domestic violence. It's not easy for them to cope with it. During this strict lockdown, some harassment and rape cases have been observed. We should educate people on how to deal with all of this. Youth are showing signs of hopelessness and restlessness; they are desperate for this pandemic to stop so they can resume their normal lives.
Some of the biggest challenges are poverty and a weak economy. Because of the lockdown, it's difficult for daily wagers to go outside to earn money and feed their families. At the beginning of the lockdown, I collected some data on how many daily wagers are in my community, which amounted to about about 60%. The biggest challenge I am facing is that not all the students of my class have internet access because it is not easily affordable. Hence, it's quite difficult for teachers to start online classes, as not all the students can join.
Creating opportunities out of the crisis
Because of the lockdown and the looming danger of the virus, we cannot go out for our jobs and meet people. Being a youth leader, I have the energy to interact and socialize with people daily, but when the lockdown took effect, all the interactive sessions were stopped and we had to stay home. One of my friends, Saif Ali (see interview with Saif) started doing interactive sessions through the Zoom app and made me a part of it. We started giving sessions on the current situation and how to deal with it, and asked about people's experiences and struggles related to it.
We felt that the youth were quite disturbed due to the lockdown and risked becoming anxious and depressed. Then we had to interact individually with some people to raise their awareness on the importance of the online sessions. We also talked about the issue of gender-based violence and protective measures to deal with it. We are trying our best to make use of this ample time during the pandemic through these online sessions and meetings. As we will not get this time back, we won't regret that we didn't do anything.
A golden chance
One of my trainers gave me a task to help the youth leaders and innovators of our community to make their professional profiles online. I contacted over 20 to 30 youth individuals and educated them on the importance of developing a professional profile, as this time during lockdown was a golden chance to do so. I helped them set up accounts on websites like LinkedIn and rozee.pk., and also helped them to create or update their CVs and make them professional and attractive. I contacted the youth individually through different apps like Whatsapp, Messenger and Zoom etc. Many people faced difficulties and I learnt a lot from this experience – because when you teach, you learn lots more things. It was a great experience contacting many people individually, interacting with them, and asking them about their pandemic experiences and their struggles during this time.
Nature has given me time to think
Before this, we never realized the importance and value of online communication. In my small town, people are unaware about technology and the advancements in communication. So with the help of this technology, I'm trying to interact with people from different places to learn about their experiences while dealing with the pandemic and coping to survive. I am trying my best to let them know about the importance of technology in this lockdown.
Doing creative things has always been a source of enjoyment for me. I have started focusing on my hobbies again. I am grateful for this time away from my intellectual work, because now I can plan ahead and set goals for my life. Nature has given me time to think and make plans for coming days. Before this, during my busy daily routine, it was hard for me to write about the day or do journaling. But now I can do journaling easily and my all plans are in front of me on paper, so it's clearer for me when I write.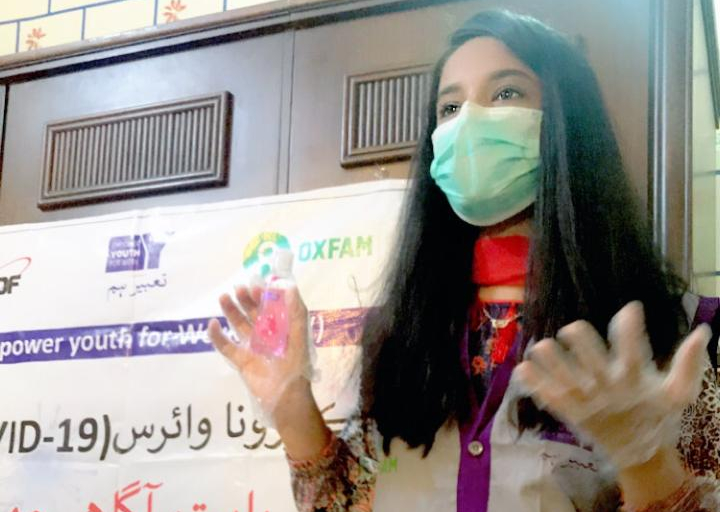 What's working, what's not?
The lack of awareness in my community is proving to be a hurdle to adopting technology to cope with these times. What's working is that we are trying to engage people through online sessions so they can divert their minds and join us. It was a success to have a considerable number of youths participate in the sessions, but there were still a lot of young people who didn't – the reasons being lack of internet facilities or poor internet connections.
The lockdown is working to an extent, but the government is unable to prevent people from going out of their homes. Many people are still going out for no good reason and communities are trying their best to contain their movements, but they cannot control every single person. People themselves must be careful. But their lack of seriousness is extremely alarming and is proving harmful to the entire community.
The power of a positive attitude
People have been feeling hopeless about the situation because of poverty at one end and the virus at the other end, and are too demotivated to appreciate anything new. This is encouraging me as a youth leader to direct their attention to different online courses and websites like Coursera, edX and Mindfulness: Things to do. Another reason that is affecting people's mental wellbeing and making them feel hopeless is the continuous watching of dark and grim news all day.
I am hopeful that the virus will go away sooner, the more people stay inside during this time. I'm hopeful for responsible behaviour towards the pandemic and for people to stay positive. Even though I am isolated at home, am not going outside or meeting anyone, I'm not giving up on hope, and am trying my best to stay connected to the members of my community.
Header image photo credit: Dua Fatima
This story is based on interviews with EYW youth for the Podcast series 'Power in the Pandemic'. Listen to the episode: "Imagine something out of the box" How are young people responding to the pandemic?