Mouwleed Abdisemed Aw Mousse is a youth entrepreneur and manager of the KAFIYA Liquid Soap Factory in Wajaale City, Somali region, Ethiopia. He describes how the enterprise is helping refugees and vulnerable people to protect themselves, despite the threats to its survival.
My name is Mouwleed Abdisemed Aw Mousse. I live Wajaale City and I'm the manager of KAFIYA Liquid Soap Factory. Currently we are facing a lot of challenges from different sides, including a shortage of chemical supplies for soap production. It is threatening our enterprise. However, we are not giving up – instead we are trying our best and making a contribution.
Soap and water save lives
We have set up water and soap on the street so community members can wash their hands as they pass by. At the same time, we have taught the public that the best way to protect themselves from the virus is to wash their hands. We also donated shampoo to the city administration, to be distributed to poor people. We gave 48 liters of shampoo to refugees displaced from Kolloji who are currently resident here in Wajaale city, and we did the same for Awberre town refugee camp.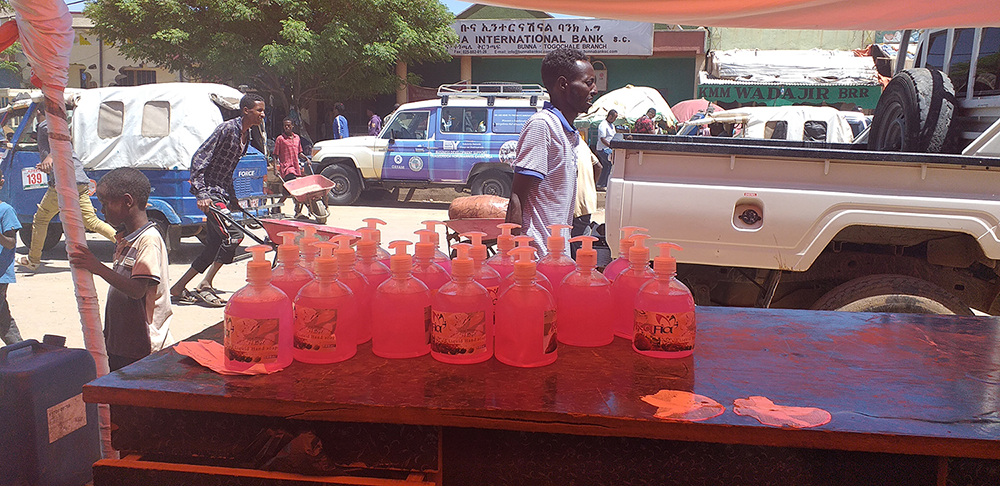 We also distributed a sanitation shampoo in some other places where we there are poor people, as charity. We distributed shampoo in police stations, health care centers etc. for free. In addition to this we took loudspeakers and amplifiers to outdoor and populous areas of the city, to raise awareness among the community and to sell our products (shampoo) at the normal price or with a discount, to save the society and even ourselves [from the virus].
Helping communities stay safe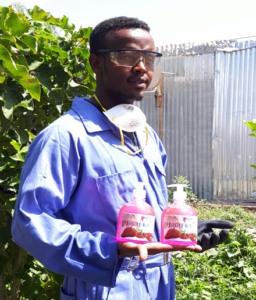 Currently, the main thing we can contribute to the community is to teach them that handwashing is one of the most important ways to prevent this disease, because some community members don't believe in hygiene or handwashing as a prevention mechanism. As a result, we have made awareness-creation forums in collaboration with religious leaders and government. We are also producing antiseptic shampoo, which is preferred and largely used by the community to wash their hands.
The first thing we hope is that Allah will clear this disease from the world. The other hope we have is that more NGOs that will intervene in this situation in our area. Currently the price of our chemical inputs has increased, so we expect our profits to go down. We understand that the only thing that can save us today is frequent handwashing. However, if the price of chemicals continues to increase, we can't increase the selling price of the product since the community is poor and cannot pay a higher price. This might lead to our business collapse. All that we expect and hope is that everything will become normal and as it was before the outbreak.
Hope against the odds
Currently we are working on producing and distributing sanitary materials within the country and outside. Antiseptic detergents are still in demand. We know what to produce and how to produce, but the price [of inputs] has limited our production. Selling our products for a higher price would harm the community.
Our best encouragement is the charity and support we give to our community, because what you provide in the name of Allah does not diminish – rather it increases. What I would like to ask is that HAVOYOCO [EYW partner], who have encouraged and helped us a lot economically so far, will support us once again so that we can help the community. First of all, we expect help from Allah; secondly, we would like to ask everyone who can afford it to lend a hand to support us."
For more on Mouwleed's story and the journey so far for the KAFIYA Liquid Soap Factory, see the news story: Youth Entrepreneurs in Ethiopia Respond to Covid-19 Measures.
This story is based on interviews with EYW youth for the Podcast series 'Power in the Pandemic'. Listen to the episode: "Imagine something out of the box" How are young people responding to the pandemic?