Youth entrepreneurs in Ethiopia respond to Covid-19 measures
As the Covid-19 pandemic sweeps across the globe, youth are faced with new restrictions and challenges. Currently, national-level measures are in place in Ethiopia to prevent the spread of Covid-19. Gatherings of any kind are forbidden and working from home is encouraged, as well as mask-wearing. However, the possibility of working online is very difficult for many people due to the lack of good network connectivity and access to internet.
Despite these challenges, young people are remaining hopeful and resilient. Some EYW youth located in Somali region have taken the initiative to make face masks and soaps. Others are also taking part in awareness-raising of the virus and its prevention measures within their communities, and they are receiving support and guidance from EYW partners. While many of their regular activities had to be postponed due to this outbreak, safety measures are currently being developed so that more young people can continue engaging in the response and their work.
Youth led soap enterprise KAFIYA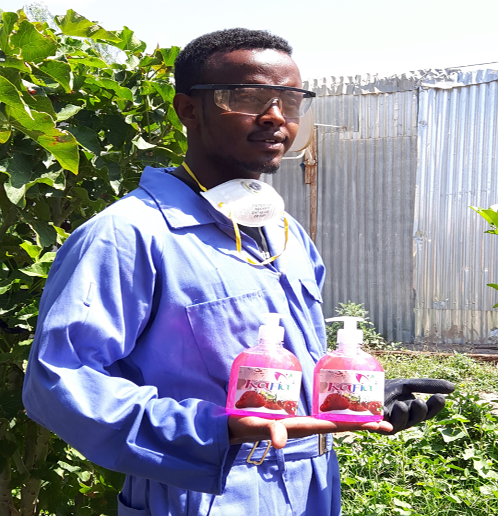 Mouwleed, a 29-year-old chemistry graduate from Wajaale City in Somalia region, travelled to Addis Ababa in search of work due to lack of jobs in his home town. After gaining expertise at a soap factory, he moved back to Wajaale and founded the KAFIYA Liquid Soap Factory Enterprise with nine youth, including four young women. Despite their efforts, the group struggled to make their business profitable and eventually it closed.
With support from EYW, they took out a loan which they used to buy inputs and upgrade their machinery. This was the boost they needed to get the business up and running. Soon, KAFIYA was producing around 3,600 litres of liquid soap per month and creating jobs for around 40 young people. Mouwleed was thrilled when the enterprise was awarded a prize by the Somali region city forum in recognition of its creativity and business performance. KAFIYA has scaled up again in response to coronavirus, and is playing an important social role by promoting hand washing and selling essential hygiene products to the wider community.
Currently, KAFYIA is engaged in mass public awareness against Covid-19 while also promoting and selling their products to the wider community. Since March 2020, the group was dedicated to selling products under small constructed tents at three different sites along the side of the road where many people transit for daily business. This youth group took the opportunity to increase awareness of the risk of Covid-19 and preventive measures to the wider community, while also promoting their product. Their campaign was successful and they were able to attract many customers, as well as public and government attention. Through this initiative, they are able to make a profit of at least 14,400 Ethiopian birr (424 USD) per day.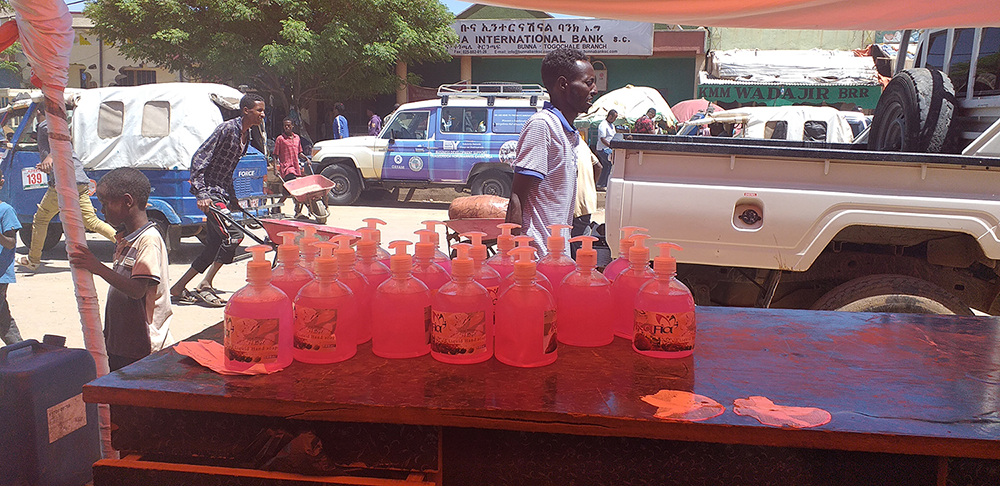 Impact on the EYW project
The necessary precautions taken by the EYW project and partners to prevent the spread of the virus have unfortunately impacted upon existing plans. Although preparations had been underway for many activities taking place in March 2020, most activities could sadly not be implemented as planned and will need to be postponed. These include lobbying and advocacy, story-gathering and reporting, youth-focused policy and practice research, videography and photography training and documentary video preparations. Many of the International Women's Day celebrations in March were also cancelled, and the event was only celebrated in a few locations.