Youth initiatives in Bangladesh respond to Covid-19
As world is fighting against Covid-19, people everywhere are being asked to remain at home and restrict their regular movement. In the rural areas of Bangladesh, it is a difficulty to remain at home for long periods of time. Many people make a living as day laborers and their only livelihood source has been shut off due to the restrictions. Only essential workers such as those who run pharmacies, grocery shops, and those maintaining law and order can continue working.
While the young people of Empower Youth for Work have also been asked to stay at home, these self-motivated youth could not deny their responsibility towards their community. Youth group members from all four implementing areas in Bangladesh are taking various initiatives to help with the Covid-19 response in alignment with the local government administration. They have been spreading awareness and distributing facemasks, soap and leaflets in the community.
Raising awareness about safe practices
In Barishal, young people arranged courtyard discussions and school-based campaigns to raise awareness about Covid-19. During these sessions, they demonstrated what should be done to avoid becoming infected. They also explained how to wear a facemask and how to wash hands appropriately as well as how to maintain social distancing, following the guidelines of the World Health Organization and the Ministry of Health. Similar actions were taken in Rajshahi, Khulna and Rangpur.
In Rajshahi and Barishal, volunteer groups were created to raise awareness in community, marking circles or squares on the ground in marketplaces and in front of pharmacies and grocery shops to maintain and ensure social distancing. Youth in Khulna also initiated a sterilization process in crowded areas like marketplaces, mosques and roads. They asked people to remain at home and distributed protective equipment to local health service providers.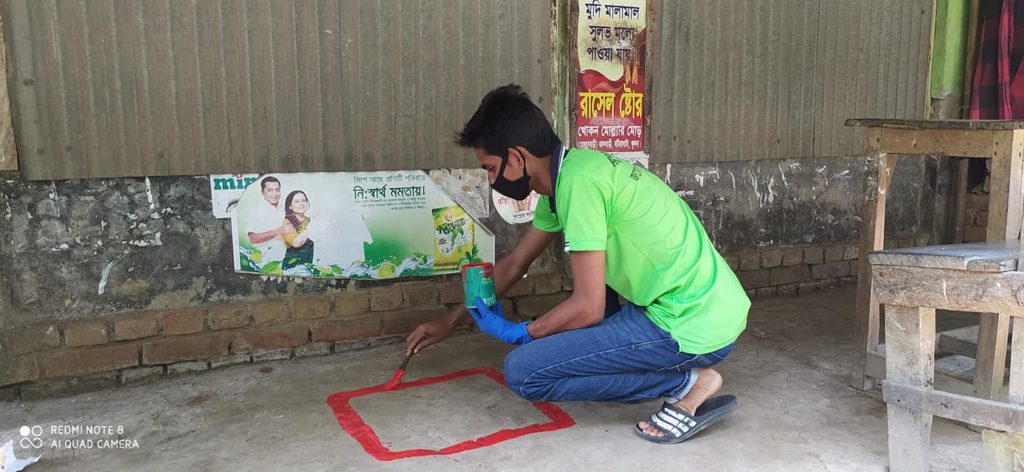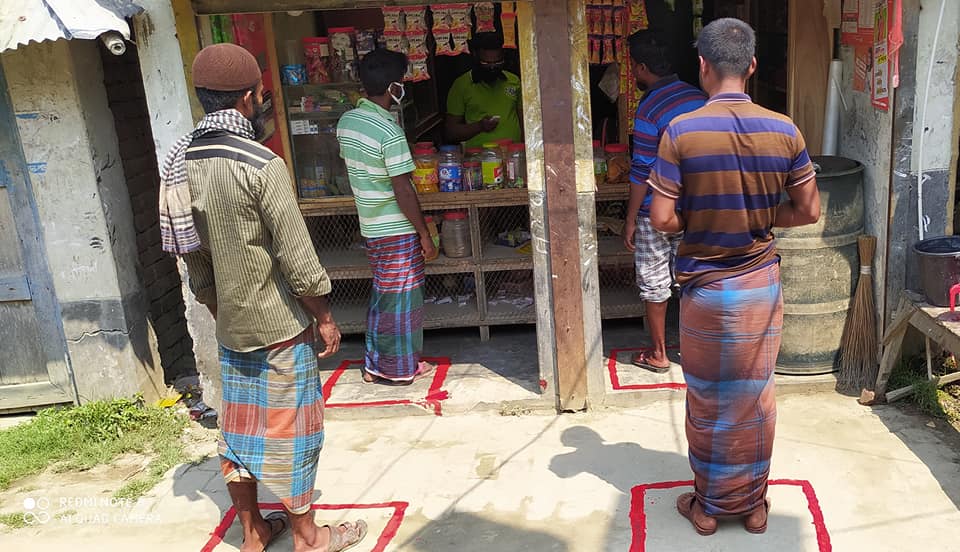 Reaching out to the most vulnerable
Alongside this, youth from the Vorpasha union of Barishal are supporting the local government by distributing basic food items and soap to vulnerable groups in their community. Similarly, youth in Khulna and Rajshahi are also helping the government prepare lists of who are among the most vulnerable and distribute supplies to them.
The initiatives and efforts coming from young people themselves are proving most valuable in such trying times. A young woman in Rangpur is making fabric facemasks and selling them for 10 Bangladeshi taka (0,11 euros). Her efforts were greatly commended, and she even received a request from the local authorities to make 200 masks for the community.