Handicrafts help Bangladeshi women affect social norms
Do you remember Mala, the young Bengali woman who despite her husband's disapproval decided to explore her creativity by creating jute products? We want to introduce you to equally inspirational women who like Mala are part of 'Nobinboron Youth Forum'. A group of 14 Bengali women who meet regularly in the village to talk, create, and spend time together. They collaborate and help each other in making beautiful products of jute twines, such as bags, shoes and ropes.
Change the perception of women
Members of the group vary, the youngest of them is Khusihi Akter a 7th grader at Boiragigonj High School. She combines her studying with creating handicraft products, as a mean to help her family financially. Mosammot Shakila Akhter is another member of the group, she is a wife, a mother, and an entrepreneur.  Mala, a 20-year-old woman already married for 7 years, also belongs to Nobinboron Youth Forum. Three of them are a part of a group in which all women have various daily lives and different stories to tell, but there is something that connects them. A shared desire to use their passion and skills to do something more in their lives and change the perception of women in the society. The Empower Youth for Work programme provides them with support and a possibility to develop their skills. Women are helped in developing entrepreneurship and vocational/non-vocational capacities, as a mean to help them in entering the market with confidence and greater abilities.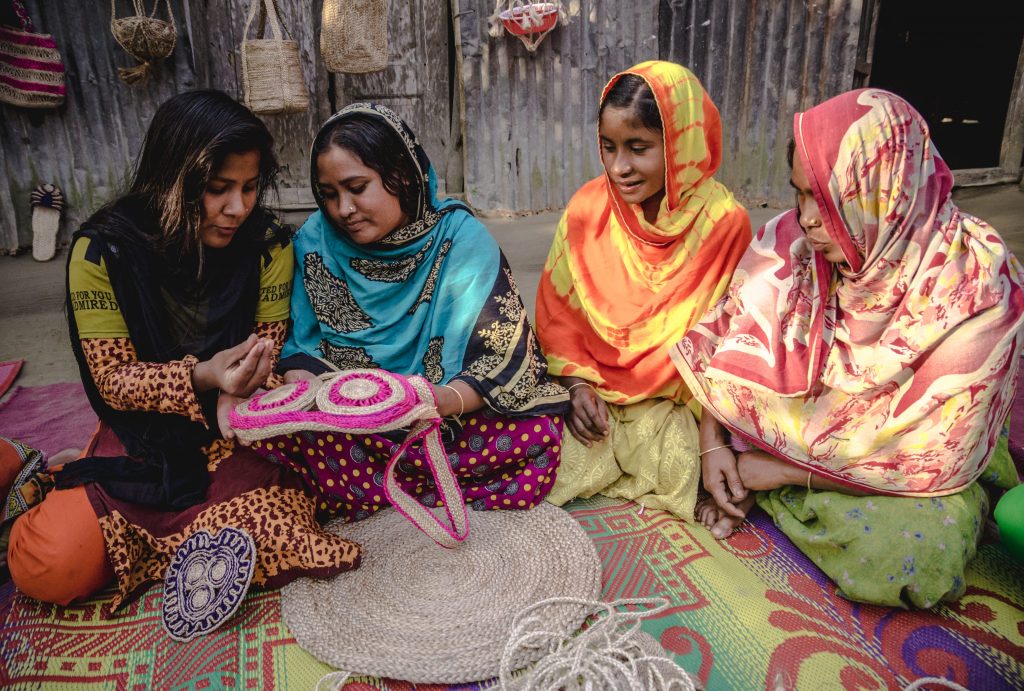 "People might not talk that much like before but they still talk badly behind our back." - Khusihi
How it all started?
At the beginning of 2017, Shajnaz – a representative of the Empower Youth for Work programme- organized a three-day long soft skill training for women. During which they were taught how to sew, craft beads' bag and make handicrafts of jute. Every day after training, the group would gather somewhere in their village and practice making the same products on their own. Women were excited about the idea, unfortunately most of their family members were not. Often voicing their disagreement by calling handicraft useless, indecent, or unprofitable. Amongst all of the women, Khushi had the toughest convincing her family. The rest of the women managed to persuade their families but Khushi's mother agreed for her daughter to take part in the training, only after attending few session with her. Khushi's story is one of many examples of how women are perceived and limited by social norms. Based on the survey carried out in Bangladesh, 76% of women and  69% of men disapprove of women simply going to the market alone. Moreover, 70% of females and 62% of males do not approve of women having their business, especially outside of the house.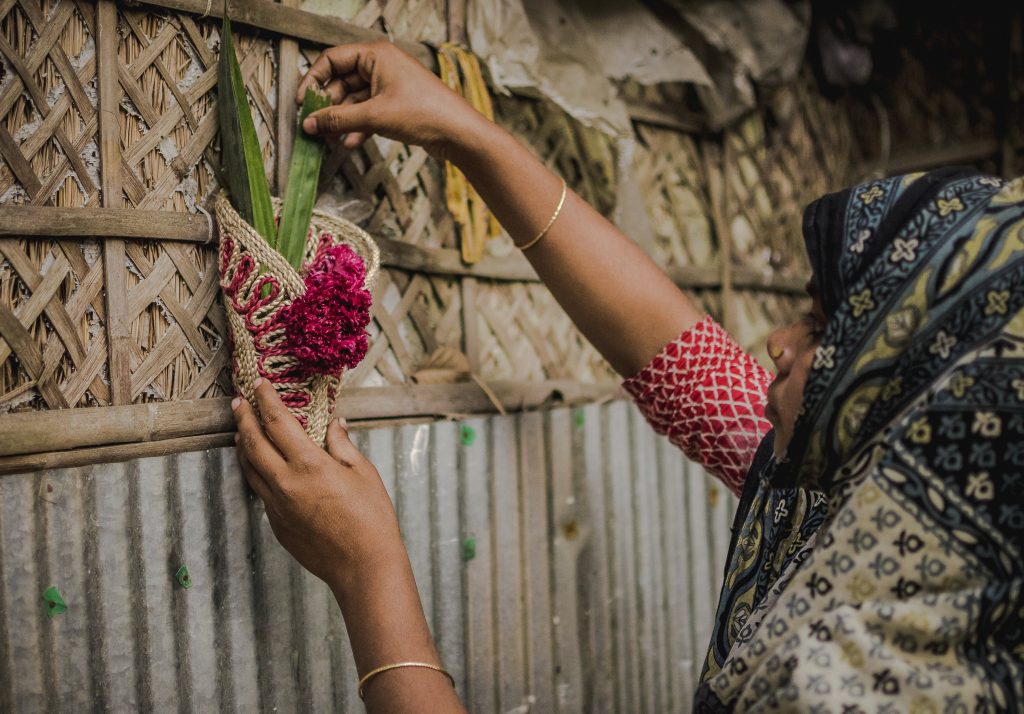 "Trainers encouraged us to be confident and aspiring, to leave behind social peripheries and not be afraid to shine."
– Khushi, Shakila and Mala
Why jute handicrafts?
Women expressed their desire to learn new skills and gain some financial stability, however they made it clear that it should be something that can be incorporated into their daily life and which does not require them to leave their houses. Short tutorial videos on handicraft were presented by the Empower Youth for Work, which as explained by Mala "We got so fascinated watching them that decided to get trained for making jute handicrafts". Women of 'Nobinboron Youth Forum' desire to use the possibilities of producing biodegradable jute products to benefit not only them and the country, but also inspire other housewives to join in. Proving that it is possible for women to be good mothers and earn money. Currently, 43% of Bangladeshi women are solely housewives, interestingly 63% of surveyed females feel comfortable taking a lead role in organizing a program or activity in their community. This offers a possibility for handicraft to become more popular, especially with the support of  Empower Youth for Work, which constantly provides women with various possibilities to grow, for instance by organizing market mapping workshop or meeting Bank Asia representatives. Together Bangladeshi women and Empower Youth for Work programme fight for a better future.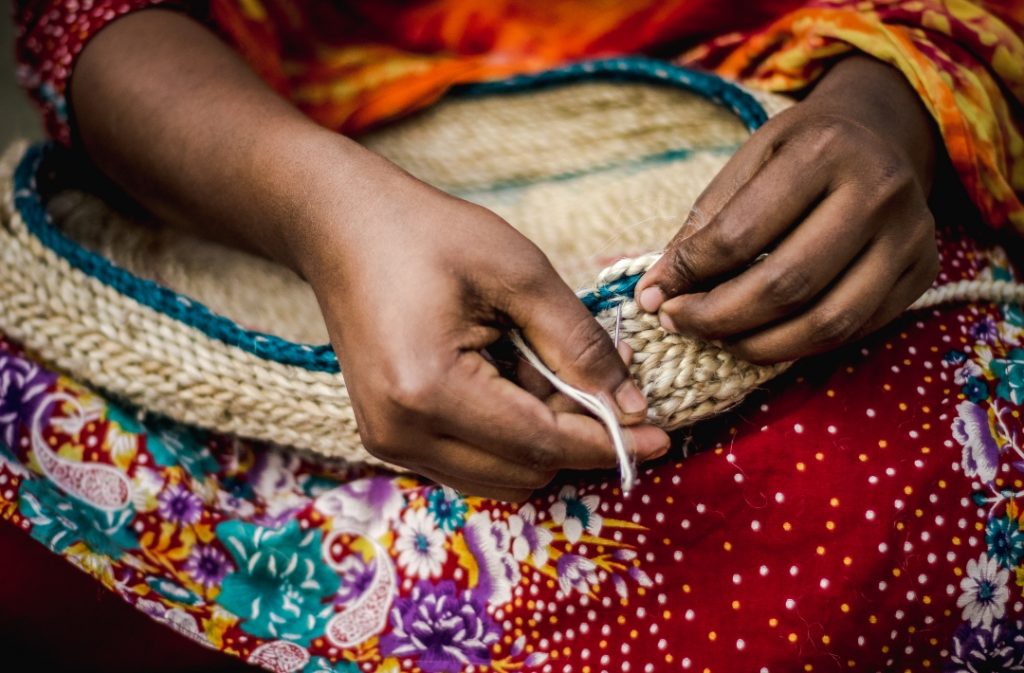 "Mala and Khushi and I, we have visited Asirunnesa apa's training center and closely observed various jute products. We also have visited Rangpur chamber of commerce thanks to EYW and got the assurance of setting up own very own stall in one of tha exhibitions within next few months." - Shakila
Photo credits: Syed Tasfiq Mahmood