Reflecting on our impact… in Ethiopia
EYW in Ethiopia recently published its midline report, with encouraging findings on the program's impact to date. This gave the team and youth participants a valuable opportunity to reflect on progress and decide on next steps.
The midline survey was carried out among 603 youth in the EYW target areas and with 194 youth in comparison areas that are not exposed to EYW activities. Furthermore, 216 community members were surveyed in EYW target areas.
The survey explored trends in relation to key performance indicators (KPIs) relevant to youth and community members and looked at the relationship between program participation and increased skills, as well as any association between young peoples' skills acquisition and gaining decent jobs and/or sustainable (self-) employment. It also looked at the impact of external factors in communities on agency and socio-economic development.
In a midline reflection workshop held in Addis Ababa in March, the EYW team – along with youth who participate in the program and national experts who are allies in implementation – interpreted the results of the midline survey and came up with concrete recommendations for the program to consider.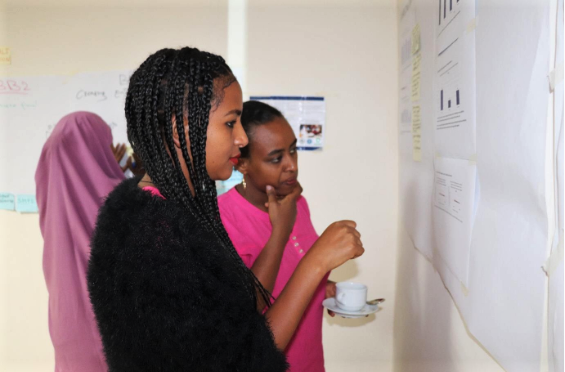 The results of the survey and workshop are presented in the midline report. Where possible, results are presented in relation to baseline findings, allowing direct comparison and showing the effects of the EYW program to date. The clearest results are seen in the impact of soft and technical skills training, in combination with on-the-job learning, on perceived skills level. Youth indicated in the surveys that the skills are useful in their daily lives and for exploring job opportunities.
The findings affirm and strengthen the Ethiopian EYW team's approach to training. The team now plans to broaden the technical skills training program to ensure an even better linkage with the labour market. The findings also urged the team to deepen the engagement and collaboration with government, private sector and community leaders to encourage shared ownership of EYW goals and support for program activities – potentially enabling the program to scale up and make an even greater impact on the lives of young people.
You can read the full Ethiopia EYW midline report and recommendations here