Shahajada from Bangladesh is supporting the green revolution
Shahajada Khan seemed to have few options after leaving school, yet today this green-fingered young man owns and manages a successful climate-friendly nursery.
Shahajada lives with his parents in Ranipukur union in the Rangpur district of Bangladesh. After completing his Higher Secondary Certificate (HSC) exam he started working on his father's farm. A natural organizer, who is popular among his peers, Shahajada decided to join the Empower Youth for Work (EYW) project. After taking part in the soft skills training, he knew for sure that he wanted to be an entrepreneur.
Green fingers
Shahajada took part in the five-day entrepreneurship skill development training in December 2019. With his existing knowledge of agriculture – which he continually expands by watching YouTube tutorials – he then set up his own nursery using a loan from his family of 20,000 BDT (211 Euro) and grant support of BDT 15,000 (159 Euro) from the EYW project. He began by growing chilli, eggplant, cabbage, cauliflower and various fruit seedlings.
The business got off to a good start, and soon Shahajada was earning around 8,000 BDT per month. Then the Covid-19 pandemic hit and, like so many young entrepreneurs, Shahajada faced serious challenges.
Undaunted, he decided to move the business online. Soon he was getting orders from across the district and beyond, doubling his average monthly income to 16,000 BDT per month. Today he sells both online and offline, and the business – Green Agrotech Nursery – is providing much-needed employment to three workers.
Growing as a leader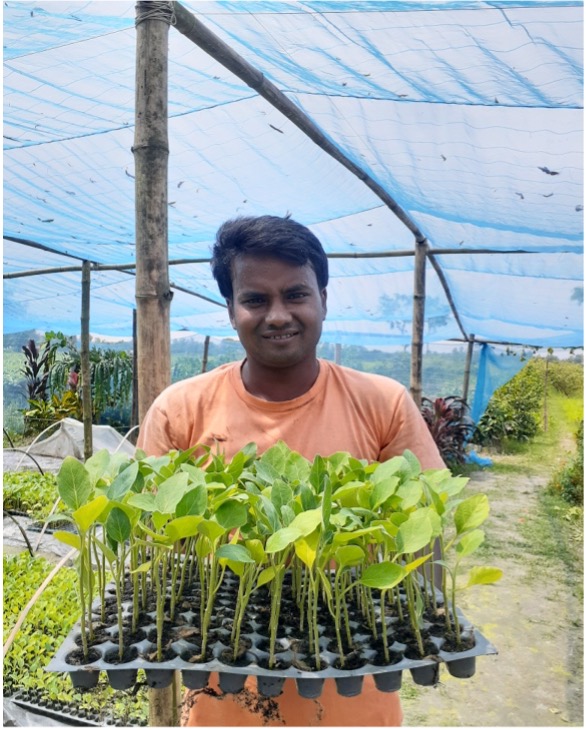 Thanks to the EYW training, Shahajada has emerged as a young leader as well as being a successful entrepreneur. He is a member of the Union Apex Body and the District Youth Advisory, and in 2019 he became a member of National Youth Advisory Board. Under the leadership of Shahjada Ranipukur Union Federation, he received registration from Department of Youth Development (DYD) under Ministry of Youth and Sports, is now the chairperson of the federation.
Shahajada is keen to share his knowledge and experience with other young people and youth organizations, and does so as a trainer on the EYW entrepreneurship skills course. He plans to expand his business, and several landowners have already already expressed an interest in investing in it.
In a difficult year, this young man has shown that with the right blend of support, hard work and tenacity, success is possible despite the odds.