Talking SDGs at the Bangladesh Scout Jamboree
The 10th Bangladesh Scout Jamboree provided the perfect opportunity to raise awareness of the Empower Youth for Work project and to inspire young people to work towards the Sustainable Development Goals.
The Bangladesh Scouts share many values of the EYW programme and have a similar focus on the Sustainable Development Goals (SDG). The national scouting association held its 10th annual Bangladesh Scout Jamboree in Gazipur from 8–14 March, and named the camp the 'Sustainable Development Village'. More than 2,000 visitors attended each day, including Scouts from across the country and those from India, Nepal, Bhutan and Sri Lanka.
Oxfam was invited to take part in the Jamboree by the Non-Government Organizations Affairs Bureau (NGOAB), and to demonstrate its activities to contribute to the SDGs, particularly its goals focusing on decent work and economic growth. This was a great opportunity to let people know how the EYW project is contributing to these objectives and to talk about how we can work together to achieve them.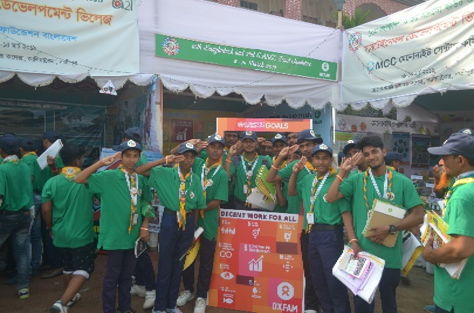 Each day, Oxfam gave a briefing and distributed materials on its activities, followed by a quiz on the SDGs with prizes for the winners. The Scouts were very curious and eager to learn how the EYW project works, what kind of training it provides and how it relates to the SDGs. Scouts from India, Nepal, Bhutan and Sri Lanka also took part and wanted to know if the project could be expanded to more South Asian countries.
Young people came out off the Jamboree with a stronger understanding of the global goals, and a better sense of the role that they can play to make the sustainable development vision a reality.