Shining a light on unpaid care work – Bangladesh
The Empower Youth for Work (EYW) programme is working to improve the socio-economic empowerment of young men and women in rural areas of Bangladesh, Ethiopia, Pakistan and Indonesia. One of EYW's thematic areas is unpaid care work – meaning household tasks such as childcare, cooking, cleaning, care for elderly family members etc., which you don't get paid for doing.
The issue that the EYW team is trying to address – with the help of local communities – is the imbalance in the division of such work within families. In many societies, it is the social norm for females to stay at home and focus on these tasks, while the men work in paid jobs outside of the home. This creates an environment where women don't have the time or the energy to pursue their own economic opportunities – a situation which presents a major obstacle to women's empowerment.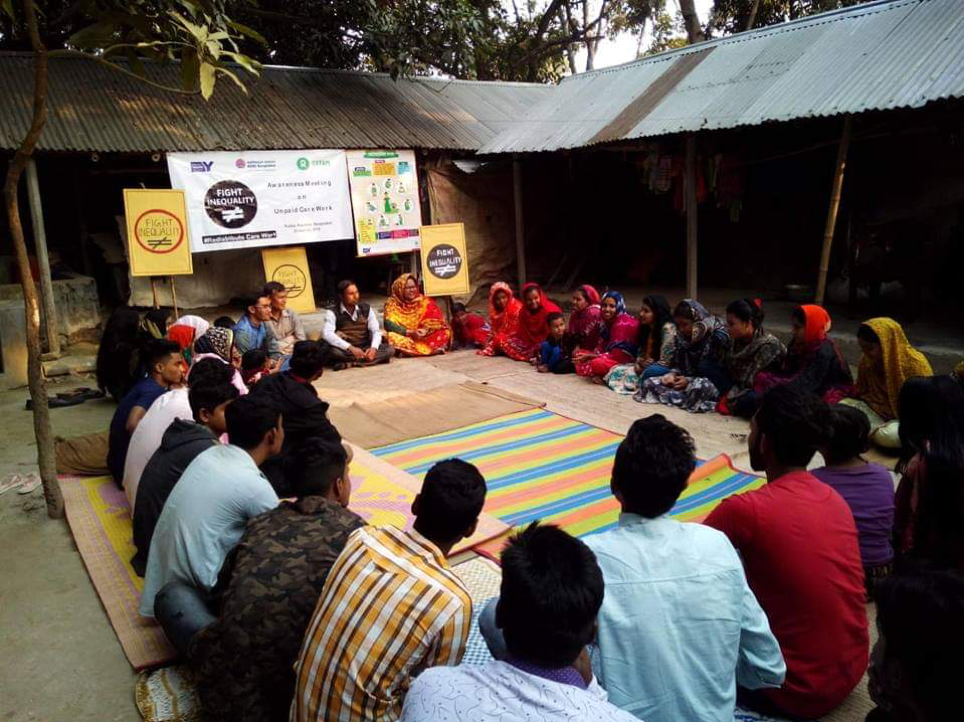 To raise awareness of unpaid care work and its impact on women, RDRS – an implementing partner of EYW in Bangladesh – organized a discussion session at Banesshor Union of Puthia Upazila (sub-district). The meeting, which took place on 23 January, was planned and implemented by the local youth members. A total of 50 EYW staff, other local youth and community members took part in the discussions on unpaid care work and how its unequal distribution affects women and society as a whole.
Through this discussion today, we have seen unpaid care work in a different light. If we become aware of this issue, I believe every family in this community will see positive changes in their lives. Md. Abdul Matin, community leader
A member of the East Banesshor community supported the event by allowing it to be hosted in her yard. Youth group members decorated the venue, creating an open and comfortable environment where participants felt able to freely express their thoughts and views. Md. Khalid Hasan Shuvo, a facilitator in the EYW life skills training (in which unpaid care work is a focus area), helped to facilitate the discussions.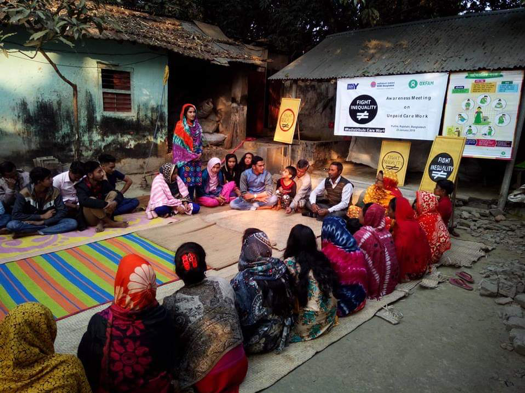 Sharing the caring
To introduce the issue and help initiate the conversation, the team showed an Oxfam video about care work and the impact of its unequal
distribution. In the discussions that followed, participants shared ideas on how to overcome inequality in care work and redistribute the work more evenly between all family members. They concluded that in order to create more impact and make the push for change stronger, the discussions need to include more male participants. Participants also agreed that youth-led planning and implementation of
community conversations and events makes the project more effective.
Md. Abdul Matin, a local community leader who presided at the event, summed up the discussions and the lessons learned from it, as follows:
'Youths from the EYW project are trying to raise awareness about an issue which we forget to pay any attention to in our everyday life. Through this discussion today, we have just seen unpaid care work in a different light. If we become aware of this issue, I believe every family in this community will see positive changes in their lives.'