Bangladesh students join the global 'climate strike'
On Friday 15 March, more than 300 young people in Barishal took part in a 'climate strike' which was supported by youth all over the world
The global student demonstration was inspired by Swedish teen activist Greta Thunberg, who who has been nominated for the Nobel Peace Prize for her prominent voice in campaigning to end politicians' inaction on climate change.
The16-year-old schoolgirl started her lone protest outside Sweden's parliament on 20 August 2018, holding a handwritten plackard saying 'SCHOOL STRIKE FOR CLIMATE'. Since then there have been a series of such strikes worldwide, and on 15 March 2019, youth in 270 cities left school to hold demonstrations and rallies to emphasize the impact of climate change and demand that world leaders take urgent action.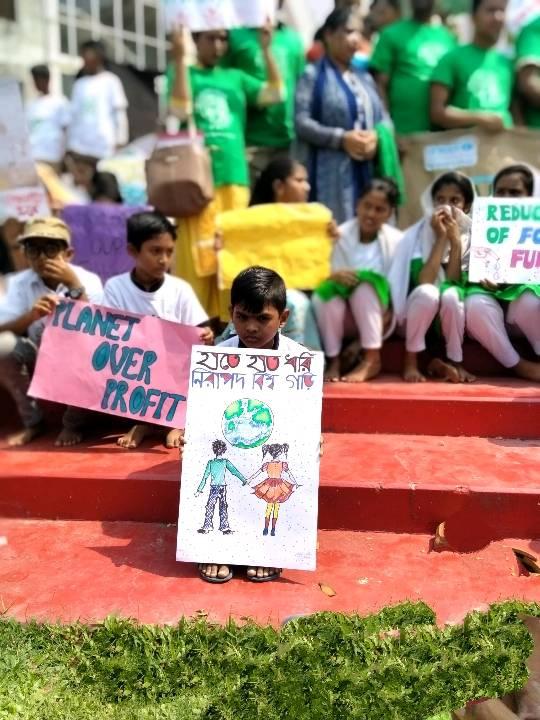 'No more tomorrow; take steps today'
Bangladesh is particularly vulnerable to the effects of climate change, because of its geography. Without urgent action now, young people will bear the brunt of climate change impacts in the years to come. Empower Youth for Work (EYW) youth group members were among over 300 students who took to the streets of Barishal to call for protection from the effects of climate change and demand urgent implementation of the Paris Climate Accord.
The young people marched from the town hall holding colorful banners and placards bearing slogans such as 'You are cooking my future' and 'No more tomorrow; take steps today'. Lima, one of the protestors, explained: "The future of Bangladesh is more vulnerable due to climate change effects. So we are raising our voice on this issue." Arif Jobayer, a Barishal University student, added: "We demand climate justice against this risk. Ensure our safety – we want implementation of the Paris treaty."
The Barishal demonstration – named 'Friday For Future: Global Climate Strike' – was organized jointly by Youthnet for Climate Justice and ActionAid Bangladesh with the support of Barishal City Corporation and Bangladesh Environment and Development Society. Similar actions will be taken in future to raise public awareness and put pressure on the decision makers to create a safer future for young people in Bangladesh and globally. Sakila Islam, one of the organizers, promised 'This is just the beginning.'
Online news articles about this event can also be found an the website of the Daily Observer and The Daily Star