Economic empowerment is not just about employment
When talking about economic empowerment, you might think of money, jobs, employment and entrepreneurship. These things are not wrong, but the list is incomplete. The issue may be more complicated than you expect. For example, did you know that there is a strong connection between economic empowerment and social norms?
According to the data from Central Statistics Authority (CSA) in 2007, 28% of the total population of Ethiopia is youth, in the age cohort of 15-29. This high component of youth population can bring both positive and negative outcomes. On the positive side, the large youth population can be seen as the potential productive force in the economic development. However, young people in Ethiopia also face a lot of barriers in pursuing this empowerment. If these barriers and challenges remain unaddressed, the potential productive force could turn into challenge and threat. Among the barriers that the youth face, social gender norms hinder the young people greatly. This can deny, especially young women, the power to be economically empowered.
How do the gender social norms become a problem to young people's economic empowerment?
Here are three topics that can help you gain a better understanding:
Gender-based violence
Gender-based violence (GBV) refers to any acts that cause physical, sexual or psychological harm to men and women that is committed based on gender. These include domestic violence, rape, sexual harassment at work place or in institutions, trafficking and forced prostitution, among others. Take domestic violence as an example, study shows that young women living under domestic violence may not have the opportunities to engage in any economic activities, due to restriction of free movement and lack of support from the husband. Similarly, study participants reported that if a girl gets raped, she is demoralized and does not have the stamina to engage in business activities within the community that has heard about her case. That is to say, that there is a direct linkage between prevailing GBV problems and young women's economic empowerment. GBV has a significant impact on young women because it limits their opportunities for economic and social empowerment.
GBV has a significant impact on young women because it limits their opportunities for economic and social empowerment.
Sexual reproductive health and rights (SRHR)
SRHR indicate the rights to access information and health care services, including maternal health care services, family planning, the access and decision making power over contraceptives as well as the individual control and choice over sexual and reproductive health. In Ethiopia, many girls have dropped out of school and become housewives due to their early marriage. In these marriages some young women have to give birth almost every year, because of their husband, who has forced them to have more children. As a consequence, they cannot engage in economic activities since they are trapped in the care work for children and household chores. What's worse, abortion is seen as sin in the community and thus it is not an option. Because of this stigma, it is difficult for young women who have had an abortion to do business activities that will economically empower them, adding yet another obstacle on the road.
SRHR empowers women to have more control over their bodies, which leads to better opportunities for the future.
Unpaid care work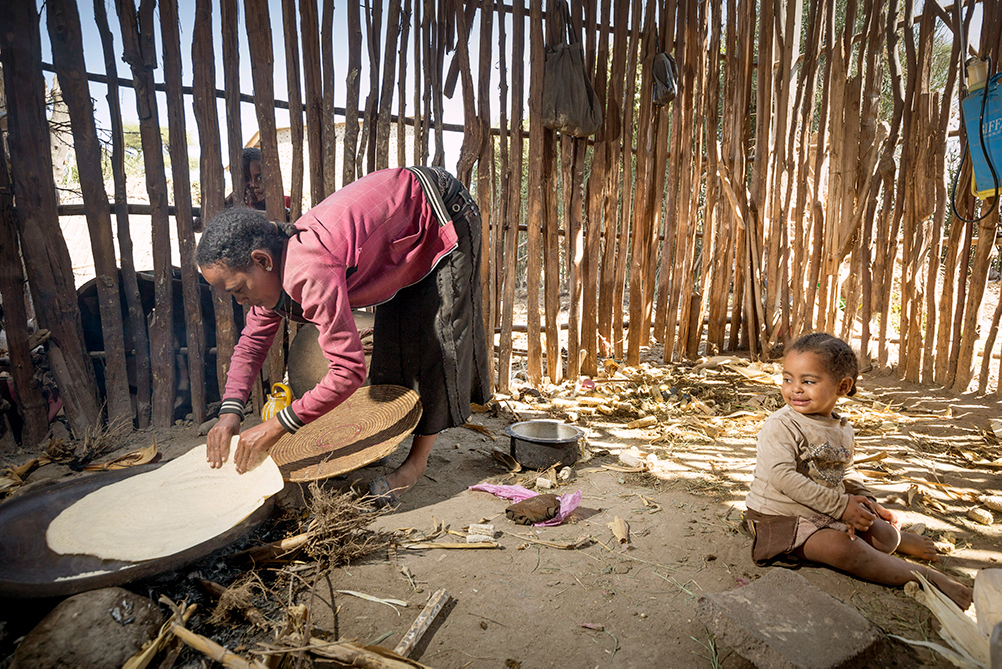 Unpaid care work refers to unremunerated domestic and care services produced and consumed within the same household. These include cleaning, servicing and repair; preparations and serving meals; care, training and instruction of children, etc. Ethiopian's time use survey of 2013 revealed that young women's engagement in unpaid care work is higher than that of young men. Unpaid heavy care work has negative impact on young women's psychological, social and economic wellbeing; young women score low grade and drop out of school, due to heavy and unequal care work at home, this can also cause psychological impacts and health problems for individuals.
Unpaid care work becomes a great barrier for young women in their pursuit for economic empowerment.
Creating a safe and supportive environment
As you can see, the issue of economic empowerment is not only about employment, it's also about the social environment and the social norms surrounding that. The gender social norms greatly hinder young people, especially young women, from accessing economic activities and getting economically empowered.
Recognizing this issue, Empower Youth for Work project, implemented by Oxfam -aiming to improve economic and social empowerment of youth women and men living in rural and semi urban areas-, has a strong focus on promoting an enabling environment for young people. In Ethiopia, the project actively address the gender based violence (GBV), the disproportional burden of unpaid work on young women and girls, as well as barriers to access to sexual and reproductive health services for young people. Through this strategy, we hope to create a safe and supportive environment for young women and men, in which they can freely develop themselves.