Flash mobs and lively discussions for Indonesia's 16 Days of Activism
To mark the global 16 Days of Activism campaign to end violence against women and girls, Oxfam in Indonesia carried out various activities on advocacy, social mobilisation and awareness. Held from November 25th to December 10th, the main objective was to move communities to change social norms that perpetuate violence against women and girls through positive actions.
This year, approximately 1000 participants took part in the 16 Days activities. This included young people of all ages, community members, local government officials and private sector representatives. Over 100 of the youth were from EYW-funded projects, including schools and the Youth Hub.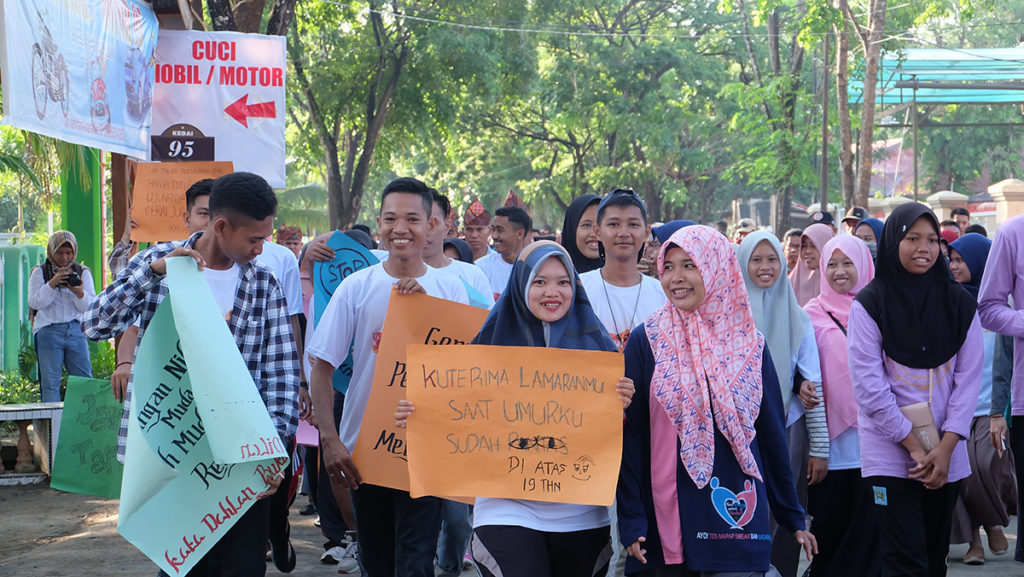 In South Sulawesi, a flash mob led by the Children's Forum was held to raise awareness about these issues and involved young people from Maros, Pangkep and Barru. This was followed by a discussion to spark conversation on the topic. Four speakers offered their views in opposition to violence against women and explained why they refused child marriage. One speaker from the Association for Women in Small Business Assistance (ASPPUK) highlighted the importance of marriage maturity for the individual's development.
In response, one mother shared her experiences;
I wanted my child to marry, because the of expectations in our culture, but after knowing the impact, I do not want this anymore.
She also stated that parents should collaborate with local leaders against this practice. Her words were welcomed by a wave of applause.
The speakers' words sparked a range of reactions from the diverse audience. Some of the young women present expressed that they feel marriage should not come before personal successes and achievements, and that children should be able to come together towards this goal. The sentiment was that women should go to school before getting married, with one resounding message: a marriage certificate is not a diploma.
Role models in the community
Positive reactions to the 16 Days events resounded through the community, both for young people as well as their parents. For young children, the speakers became role models in their village that can provide information related to child marriage and violence against women. Their parents were also effectively reached by the adult speakers, opening their eyes to the harsh realities of violence against women, especially at the domestic level.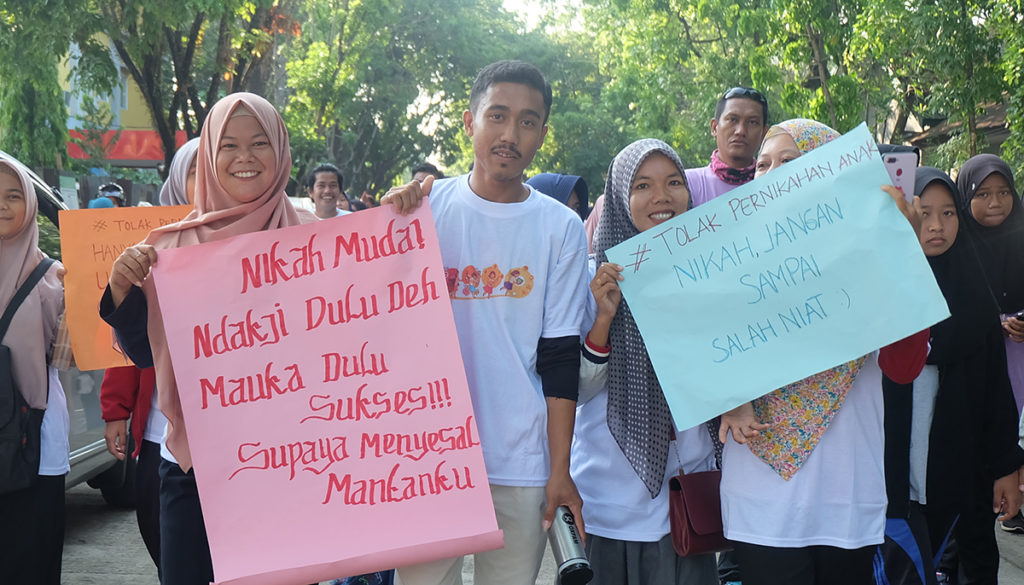 Commitments by the government
After hearing the discussion, commitments were made by the Regent of Pangkep, the head of regional government. The Regent announced directly following up this meeting by instructing officials and staff to campaign for this movement. Given the campaign matches local development goals, he also made the following commitments:
Starting discussions with all parties to create activities or programs related to preventing child marriage
Involving Oxfam, other NGOs and the private sector in carrying out similar activities within the community
Making rules at the village level and creating a structured campaign related to preventing child marriage
Thanks to the campaign's efforts, the government will also create and be involved in working groups to reduce child marriage and domestic violence. District officials and village leaders will work together to provide information and enforce the regulations that see 19 as the minimum age for marriage.
Over the 16 Days, the campaign activities were carried out jointly with EYW partners at district, provincial and national levels. This was with partners including the Creating Spaces (CS) project, The Indonesian Women in Leadership (I-WIL) and Power Up (PU). Oxfam in Indonesia is a leading influencer and campaigner for this project and is responsible for ensuring partners address the problem of ending child marriage in Indonesia. The results of this campaign have opened the door for NGOs concerned with this issue, enabling discussion with local government on next steps.