Gutema from Ethiopia is chasing a childhood dream
Ever since he was a little boy, Gutema dreamed of running his own restaurant. With support from the Empower Youth for Work project, this determined young man is finally turning his vision into a reality.
Gutema Limaso (22) grew up in a small rural village in Ethiopia's Oromia region, where his family were subsistence farmers. Financial problems forced Gutema to drop out of school in grade 9. At first, he helped with farming but eventually he decided to leave his village and family to try to start a new life in the nearby Iddola Burqa town.
By a stroke of luck, Gutema heard about the Empower Youth for Work (EYW) apprenticeship scheme. This builds young people's technical skills so they can access work opportunities or start their own business. Selected companies are encouraged to provide apprenticeships in agriculture, hotel management, garment-making, construction and carpentry. For Gutema, it was a game-changer.
"I had always been interested in having my own café, but I didn't have the skills and experience," he says. "With the EYW apprenticeship program, I chose to train in hotel management at the Rift Valley Hotel in Shashamane. I attended the training for 30 days and gained essential skills and knowledge."
I have great hopes to change my life through hard work."
This gave Gutema the confidence to start his own business. His parents helped by giving him a small amount of money which he used to set up his own café. This is providing a valued service for the local community and has created job opportunities for two other young people. Both employees (one female, one male) get their daily meals from the café as an additional benefit.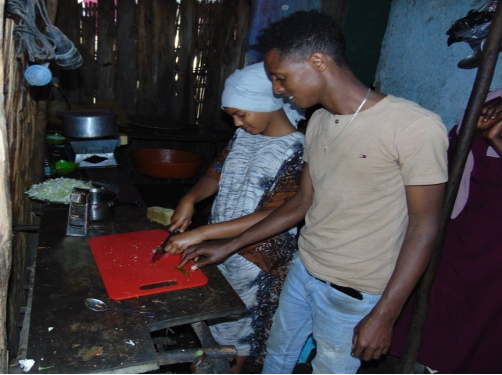 He is particularly grateful to the district supervisor, Aklilu, from Oxfam's local partner RCWDO, who provides continuous business development support.
"Aklilu is continuously visiting, supporting and advising me on how to have a vibrant business. He is showing me how to maintain records and improve my service quality. I need this ongoing support and advice to stay on the right track to achieve my goals. I would like to thank my Kebele, RCWDO, Rift Valley hotel workers and EYW, because they offered me the chance to get the skills and experience that I needed."
Hopes for the future
"I am a new start-up with great hopes to change my life through hard work. In the next two to three years, I want to have a big cafeteria that employs more than 20 young people. I also want to share my skills and experiences of overcoming challenges to other youths who want to start their own business." We wish him every success.