Reflecting on our impact… in Bangladesh
The EYW midline report in Bangladesh shows some very promising results. Youth group members joined the team in Bangladesh to reflect on the learning – and discuss how best to maximize the program's impact in future.
The midline survey was carried out among 567 youth in the EYW target areas and 290 youth in comparison areas that are not exposed to EYW activities. In addition, 200 community members were surveyed in EYW target areas.
The survey explored trends and impact in relation to key performance indicators (KPIs) relevant to youth and community members, and focused on the relationship between program participation and increased skills. This included exploring whether there was any association between young people's skills acquisition and gaining decent jobs and/or sustainable (self-) employment. It also looked at the impact of external factors in communities on agency and socio-economic development.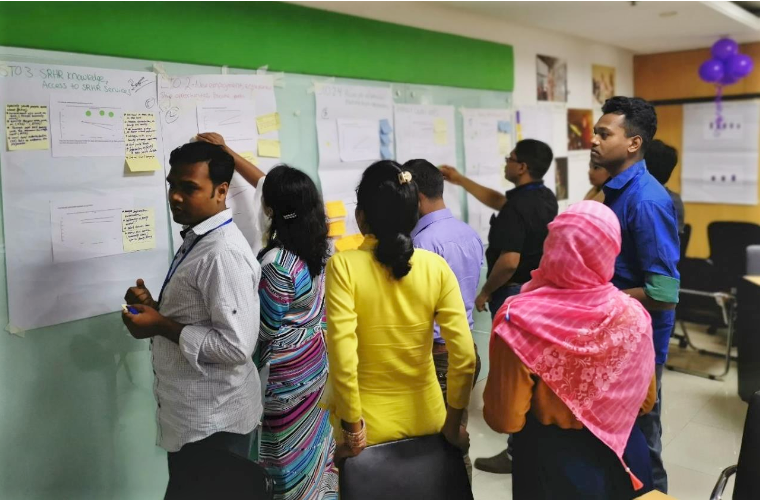 The results of the midline survey in Bangladesh are presented in the midline report, reflecting EYW's impact evaluation approach. The report presents the results in relation to baseline findings where possible, showing the program's impact. A positive trend is already visible at the highest level of the theory of change – on socio-economic empowerment. For female youth, this change can be attributed to EYW activities. This is promising, as the program has the ambition to focus on female youth, with a 70/30 female-to-male ratio.
Clear results were also seen on the impact of soft-skills training and on-the-job learning through internships. Youth indicated that they find the skills they learn useful in their daily lives and for exploring job opportunities.
The positive trend is encouraging, but the question is how to translate the findings of the midline survey into overall impact in the remaining years of the program. This was the main consideration of the midline reflection workshop held in Dhaka in March 2019, where the EYW team – including young people who are involved in the program – interpreted the results of the midline survey and came up with concrete recommendations for the program's next steps.
Participants of the midline reflection workshop said they learned a lot from interpreting the results. There were some interesting discussions around regional differences in implementation. It was noted that special support is needed for the hard-to-reach extreme poor, particularly in Barishal. Among other learning and recommendations that the team in Bangladesh will take forward from the report, they will explore how to best support extremely marginalized groups in this region.
You can read the full EYW Bangladesh midline report and recommendations here