Young people say 'enough!' to violence against women
In Bangladesh, young people in the Empower Youth for Work program lent their voices to the call to end the gender-based violence that blights the lives of women everywhere.
The '16 Days of Activism against Gender-Based Violence' is an annual international campaign that runs from 25 November, the International Day for the Elimination of Violence against Women, until Human Rights Day on 10 December. In 2019 campaigners united under the theme, 'Orange the World: Generation Equality Stands against Rape!'
During the 16 Days of Activism, which tied in with Oxfam International's Enough! campaign to end violence against women, Oxfam invited people to take part in a massive global jamming session – the 'Say Enough Cypher' – by sharing their original poems and songs against gender-based violence. A 'cypher' is an informal gathering of musicians, poets or rappers who take turns performing.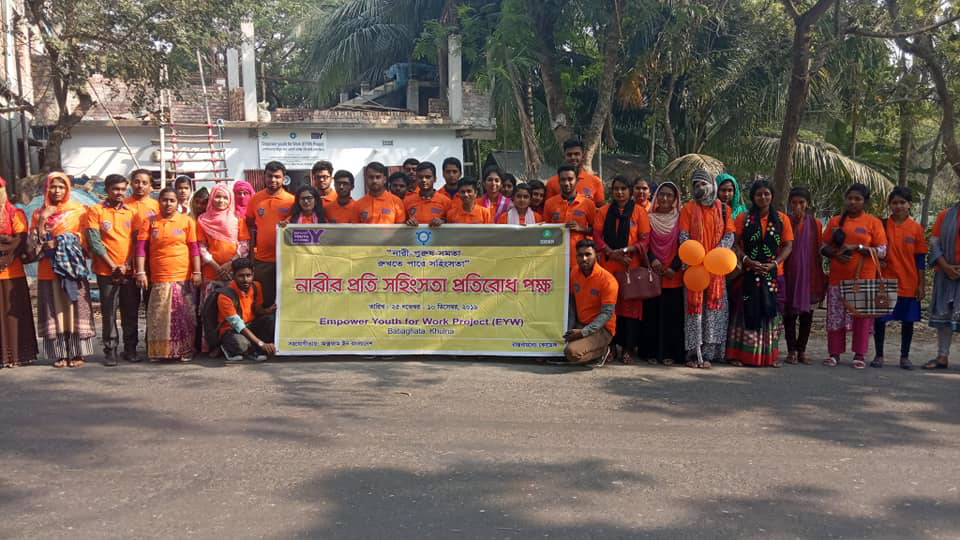 In Bangladesh, in each of the four EYW project areas, young people dressed in orange to perform their own song at a local event and then shared it on #SayEnoughCypher. Youth from Barishal, Khulna and Rajshahi also spread the campaign message through a street and stage drama, a community consultation and a game show. And in central Batighata, they painted eye-catching wall murals near the sub-district administration office at the request of a local government officer who had been impressed by their initiative!
Oxfam in Bangladesh collaborated with Radio Shadhin to promote the 16 Days of Activism through a series of radio shows – including one on the topic of 'Youth perception on domestic violence', which attracted over 4,000 listeners. Young people shared their views on domestic violence and the part that they can play in stopping it. A talented Oxfam staff member performed a song on the topic, which Radio Shadhin played throughout the 16 days of the campaign.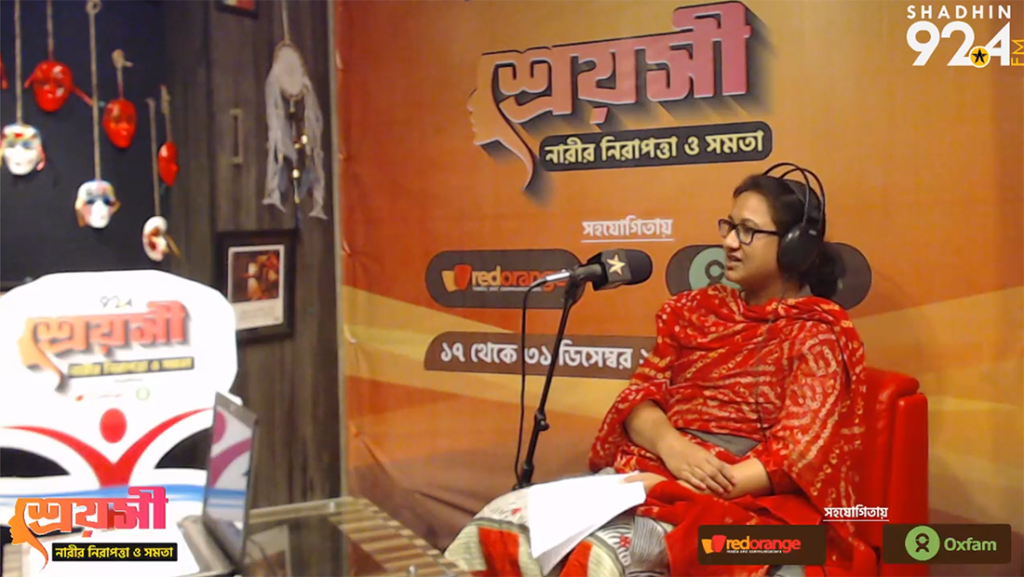 One of the campaign's biggest achievements in Bangladesh was the high level of involvement of young men, who personally committed to help stop violence against women. Well done and thank you to everyone in Bangladesh and around the world who shared their time and talent to help get this important issue into the spotlight.
You can check out some of the amazing musicians and poets who shared their original pieces to take a stand against violence against women at: #SayEnoughCypher