Water solution at the Youth-led 'Climate Smart Village'
Water Solution! Youth-led 'Climate Smart Village' brings safe drinking water to 250 households
"In the past, collecting water took two or three hours. Drinking water would cause stomach ailments, diarrhoea and acidity problems. Things have changed – now we can get fresh water immediately, and it saves our time."- Shima Roy, Gangarampur village, Bangladesh
PSF = pond sand filter
The Empower Youth for Work (EYW) project in Bangladesh has been implementing a 'Youth-led Climate Smart Village' (CSV) pilot, with a view to empowering young women and men by enabling them to find climate-friendly solutions to shared problems. This is the story of how the lives of families in one small village have improved thanks to this youth initiative.
Gangarampur is a typical coastal village in Khulna district, southwestern Bangladesh. Most of its inhabitants rely on agriculture for a living. Their biggest concern is water scarcity and salinity, with the water crisis reaching a peak in mid-February to April when the ponds dry up. Natural disasters like cyclones, tidal surges, saline intrusion and river erosion have become part and parcel of life here, and the region was badly hit by Cyclone Amphan in May 2020.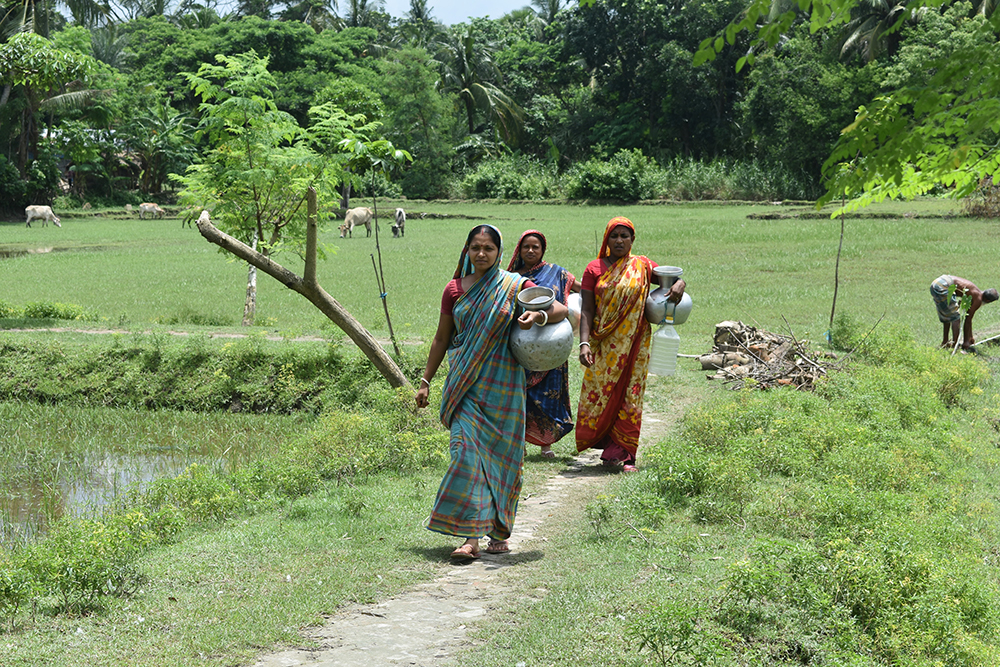 An impossible choice
Before the EYW initiative, villagers collected their water from one community-owned pond. This had a pond sand filter (PSF) to purify the water, but it wasn't functioning properly and the water flow was so low that collecting it was an arduous task. This meant villagers faced a stark choice: they could spend hours collecting clean water from the filter, or risk their health by taking water directly from the pond. People often complained of hair loss and skin irritations in addition to diarrhea and stomach complaints, as a result of drinking unsafe water.
Working with a consultant, the EYW youth engaged local people and authorities to identify the various impacts of climate change on agriculture, health, livelihoods and water. Together, they prioritized scarcity of fresh drinking water as their number-one concern, and identified the renovation of an existing pond sand filter (PSF) as a possible way to overcome this. The youth group then formed a Water Committee to help lead the process.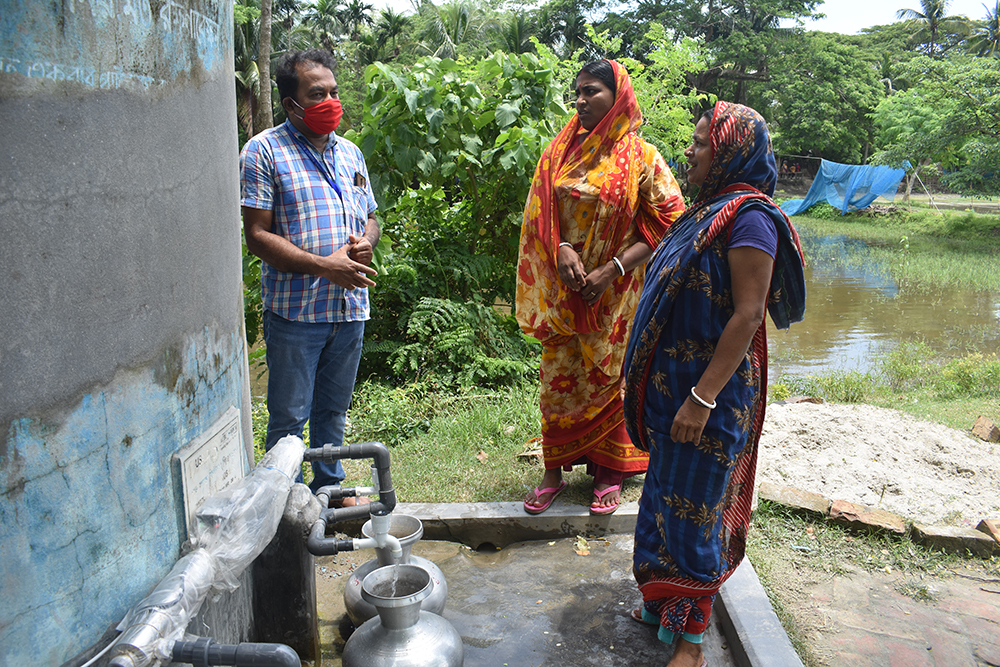 A sustainable solution
With support from EYW partner CODEC and a public health engineer from Oxfam in Bangladesh, the existing PSF was redesigned and renovated with a solar energy driven motor, meaning it is both energy efficient and sustainable. It is also more resilient to disasters and cannot be easily damaged or contaminated by saltwater intrusion.
Crucially, in the longer term the PSF will be managed and looked after by the Water Committee, which will include youth entrepreneurs. Probir, a member of the Water Committee explains: "Even when the project is phased out, we – the young people – will work together to maintain this PSF, so that it doesn't become non-functional again."
"This has opened a new window for the renovation of thousands of non-functioning PSFs throughout coastal areas"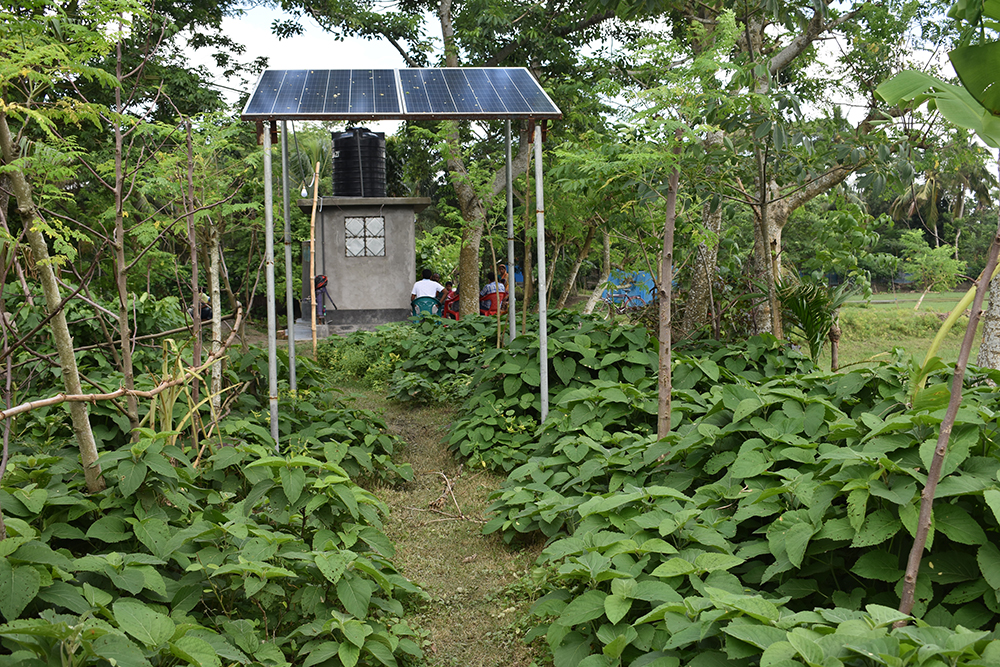 Thanks to the installation of the solar-operated PSF, more than 1,100 people in Gangarampur village now have easy access to safe water, which they are using for drinking, cooking, washing and bathing. According to Sanjan Kumar Barua, the Oxfam Public Health Engineer who supported the pilot project: "The most important thing is that this has opened a new window for renovation of thousands of non-functioning PSFs and replication of this maintenance system throughout coastal areas where pond water is used as drinking water."
"It used to take at least an hour to fill a pot with water from the old PSF… now it takes five minutes."
Villagers have appreciated having easy access to safe water all the more during the Covid-19 crisis, which came at a time when this coastal community was already struggling in the aftermath of Cyclone Amphan. As expressed by Pipasa, a young girl in the village:
"If at the time of coronavirus and Amphan we didn't have this PSF, we would have to collect water from far away, and we would be more in crisis. Our problem has been solved because now we have water next to us."
For more on this story and to hear directly from the people involved, watch this inspiring short film: ">